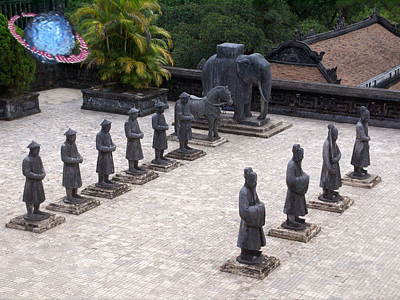 Tomb of Nguyen Emperor Khai Dinh
The enclosing mountain is said to represent a dragon, with one side being the dragon's head and the other end its tail, though some rather see a tiger in the side opposing the dragon's head. The tomb is guarded by statues of elephants, horses and palace officials, a feature akin to the Terracotta Warriors (fig.) of Emperor Qin Shi Huang's Mausoleum in Xi'an, China.
THAILAND'S NEIGHBOURS & BEYOND and QUADCOPTER PICTURE.