Thai-Isaan. A kind of fresh water fish trap, used in places where the water is shallow. It consists of a round, long tapering wickerwork case, lined and braided with rattan rods. The top is open to enable a view inside to check upon the fish already caught. It has a funnel-shaped mouth with spikes to prevent the fish from swimming back out. See also lob, son, sai and sang. 回
Thai. Any festival traditionally held at the end of autumn, as in 'saad kanom koh', an annual festival held more or less during fall, when Chinese sweetmeat made of rice flour is eaten. The term is however often used popularly for any annual festival. See also krayahsaad. 回
Thai. 'Savant' or 'religious prophet'. A name for the historical Buddha, the Enlightened One. 回
1. Thai for 'sand'. 回
2. Thai. Short for neua saai, meaning 'Hog Deer'. 回
Thai. A pestle used to grind things in a mortar called krok (fig.). Its form is reminiscent of the physical shape of a praying mantis (fig.), which is therefore called takkataen tam khao in Thai. In Hindu mythology, a pestle named Musala, is an attribute of the god Balarama, the god of ploughmen (fig.), an older brother of Krishna and an avatar of Vishnu. 回
Thai for the story of the Three Kingdoms. 回
Saam Liam Thong Kham (สามเหลี่ยมทองคำ)
Thai for the Golden Triangle. 回
Thai. 'Tricycle'. Thai for a rickshaw. If motorized it is nicknamed a tuktuk (fig.) after the sound of its engine. If it is a push-bike it is also called rot saamloh tihb (fig.). Often spelt samlor or samloh. The first ever pedal-driven rickshaw in Thailand was used in Nakhon Ratchasima in 1933. Before then, they were pulled by a person running on foot. See also rot thaeksih. 回

Thai name for the Entada spiralis, a large kind of sea bean. 回
Thai. A sarong-like lower garment of a Buddhist monk, worn below the angsa and underneath the pahkahsahwapad. 回
Sanskrit. Name of Indra's consort. She is the goddess of wrath and jealousy, and a daughter an asura who was killed by Indra. She is described as very beautiful and sometimes as having a thousand eyes. She is associated with lions and elephants (fig.). Sometimes transcribed Shachi and also known as Indrani. 回
Thai. A large bird in the epic Ramakien and the younger brother of Samphati. He has the face of the Garuda and the body of a bird with green feathers. He witnessed the kidnapping of Sita by Tossakan and courageously tried to intervene, but was critically wounded by the demon. Yet, it brought Rama the news of Sita's kidnapping and showed him her ring, as proof, then it died. It is sometimes associated with Tantima. Also Nok Sadayu. 回

Common name for a species of anemone fish, with the scientific designation Amphiprion polymnus. This fish has a black body, with a yellowish face and two main white markings, i.e. one thick vertical bar behind the eyes, the other an often incomplete bar (or just a large spot) on its back and spreading onto the dorsal fin, which is reminiscent of a saddle. In addition, the anal and caudal fins are lined with white. This species is found only in the Gulf of Thailand. Like other species of anemone fish it dwells near the seabed, in areas with sea anemones. The Saddleback Anemone Fish is depicted on the last of four Thai postage stamps issued in 2006 to publicize the anemone fish of Thailand (fig.). It is also commonly known as Saddleback Clown Fish, which is alternatively spelled Saddleback Clownfish, and in Thai it is called pla cartoon ahn mah (ปลาการ์ตูนอานม้า), i.e. 'horse saddle cartoon fish'. 回

Sanskrit. 'Good man' or 'holy man', 'sage', and 'seer', though sometimes translated 'beggar', and as an adjective it may also mean 'leading straight to a goal' and 'effective' or 'efficient', as well as 'virtuous', 'peaceful', 'kind' and 'honest'. The term is used to refer to someone who renounces the secular world and strives for a religious life. The sadhu's aim is to achieve moksha through ascetics, meditation and contemplation of brahman. Becoming a sadhu is often considered the fourth and last phase in the Four Stages of Life, which is also known as Brahmacharya, i.e. the celibate stage. They often wear saffron or ochre-coloured clothing, which both in Hinduism and Buddhism symbolizes renunciation. Many sadhu wear a tilaka on their forehead, generally a certain sectarian mark, known as pundra. These so-called holy men or mystics usually have long beards and dreadlocks, that are matted with cow dung and rubbed with vibhuti (fig.), i.e. sacred ash, that is taken either from a temple flame or −more likely− from a cremation fire (fig.). Besides this, sadhu also cover their body and face in cremation ashes. The ash, which is considered food from Agni, the god of fire (fig.), symbolizes the conquest over death, as well as the destruction of ones karma in the fire of austerity. The female term for sadhu is sadhvi. See also rishi. 回

Thai-Khmer. Name of a Khmer sanctuary in Sa Kaeo, that dates back to the 11th century. It was built in red sandstone and laterite, by the order of Udayadityavarman II (1050-1066 AD) and dedicated to the Hindu god Shiva. The sanctuary is best known as the original site of a 1.51 meters high stele, known as inscription K 235, that originally stood in the northeast corner of the temple's court and has inscriptions in both Sanskrit and ancient Khmer, and which is considered to be one of the most revealing writings from the Angkorian Period, describing the rule of twelve Khmer kings over the course of the two and a half centuries, giving account of some basic events of their reigns, as well as some major events, such as the relocation of the capital. The temple was formerly known as Prasat Meuang Phrao and is also called Prasat Sadok Kok Thom or Prasat Hin Sadok Kok Thom, and is sometimes spelled Sdok Kok Thom or Sdok Kak Thom. It has been portrayed on a Thai postage stamp, as part of a set of four stamps issued in 2009 to mark the annual Thai Heritage Conservation Day (fig.). The meaning of the word Sadok is likely 'Lake' or 'Reservoir', but the meaning of the word Kok is disputed, yet −as in Thai− it possibly refers to the general name for 'sedges', the family of rush or reed-like waterside or marsh plants, whilst Thom is a Khmer word meaning 'Big', as in Angkor Thom. Hence, the name is by some translated as 'Great Reed Lake'. 回
Thai. Ritual to get rid of bad luck, usually by sprinkling holy water on the head. 回
Thai. The belief in a religion. 回
Thai. 'Sunlight'. Name of a demon character from the Ramakien (fig.). He is the second son of Phaya Khon (พญาขร) and a younger brother of Mangkonkan (fig.). He owned the Surakaan crystal ring, which Phra Phrom (fig.) gave him as a weapon, and that has the power to emit a deadly ray that can instantly age anyone into death. He had deposited it with Phra Phrom at the time that Totsakan (fig.) send him into battle against Phra Ram (fig.). When Phiphek (fig.) informed Phra Ram of this, he ordered Ongkhot (fig.) to transform himself into the yak Jitraphairi/Wichitphai (จิตรไพรี/วิจิตรไพรี), the younger brother of Mangkonkan and a half-brother of Saeng Ahtit, and told him to fetch the ring from Phra Phrom. When Saeng Ahtit was losing the battle against Phra Ram, he also send his −genuine− half-brother to go and get the Surakaan crystal ring from Phra Phrom, only to learn that he had already given it back to him earlier, thus discovering the deceit. Enraged about this treachery, Saeng Ahtit forced himself into a fierce battle with Phra Ram, but was hit by the latter's Phrommat arrow and died on the battlefield. He seems to be one of the demons that took part in the Churning of the Ocean of Milk (fig.) depicted in the sculpture at Suwannaphum International Airport (fig.). 回

Thai name for an evergreen shrub with the botanical designation Leucophyllum frutescens and in Thailand commonly found as an outdoor ornamental plant. It originates from the US and is in English commonly known by a variety of names, including Texas Ranger, Wild Lilac, Purple Sage, and Texas Rain Sage, among others. 回

Thai. 'Army' or 'military might'. Also kong thap. 回
A spice derived from the fried pistils and styles of the saffron crocus, a kind of wild crocus with the scientific name Crocus cartwrightianus, originally from Southwest Asia, but now domesticated as Crocus sativus and cultivated also in other parts of the world. It has long been the world's most expensive spice by weight and is used as a yellow dye or colouring matter for food and textiles. Traijiewon or pah kahsahwapad, the saffron-coloured robes (fig.) worn by Buddhist monks, are not dyed with the costly saffron, but rather, at least in the past, with turmeric, a far less expensive dye. It occurs both dried and in powdered form (fig.). In both Buddhism and Hinduism, the colour saffron −or alternatively ochre− symbolizes renunciation. The name saffron derives from the Arabic word zafaraan, which is itself derived from the adjective asafar, meaning 'yellow'. In Thai ya faran. 回

Thai name for the United Nations, an organization of which Thailand is a strong supporter, with much of its regional organizations based in Bangkok, including a total of 24 UN agencies that are active in Thailand. Thailand actively contributed to UN peacekeeping operations and has ratified a series of UN human rights, labour and environment conventions and treaties. 回

Name of a yak, i.e. giant demon from the Ramakien. He is described as having a white complexion, one thousand heads and two thousand arms. He was the ruler of the city of Pahngtahn (ปางตาล) and an ally of Totsakan, whom he helped in his fight against Rama, yet he was killed by Hanuman (fig.). In iconography, he is usually depicted with a chadah-like crown, with multiple layers of small white heads (fig.). In architecture, he is often portrayed together with Totsakan, a yak with a green complexion. Both stand at the entrance of Wat Arun (fig.), as well as at the northern gate of the Western entrances of Wat Phra Kaew (fig.). In 2001, he was depicted on a Thai postage stamp, as part of a set of four stamps with giants that guard temple entrances (fig.). He is also one of the 12 giants that stand at the check-in hall of Suwannaphum International Airport (fig.) in Samut Prakan. Also transcribed Sahasadeja and usually referred to as Thao Sahatsadecha (fig.). See also LIST OF RAMAKIEN CHARACTERS. 回

1. Thai name for the Chinese pear or sand pear, of the genus Pyrus pyriflora. It has succulent creamy-white flesh and tastes either sweet or sweet and a little sour. Its flesh is sandy and crispy or soft in some varieties. 回

2. A cake-like sweet, known as Thai sponge cake and also referred to as kanom sahlih. This light, yet rather dry cake, is made by steaming it in a style similar to au-bain-marie (fig.) and usual flavours include coffee or mocha, pandanus and strawberry (fig.). It is typically cut into small square blocks, each of which may be topped with some kind of edible garniture, such as a raisin or a piece of preserved fruit. 回

3. Thai for 'trolley'. 回
4. Thai for 'wheelbarrow', more specifically referred to as rot sahlih. 回
Thai name for a kind of spirit house with four, and on occasion six legs (fig.), that houses the chao tih, the animist guardian spirit of the land. See also sahn phra phum. 回

sahn lak meuang (ศาลหลักเมือง)
Thai. A shrine in Thailand housing the lak meuang, or city pillar. 回

Thai name for a kind of spirit house with one leg, that houses the jawed (fig.), a Hindu household god that protects lands and homes. See also sahn chao tih. 回

Paper made from the paper mulberry tree. In Thai kradaat sah. See also ton sah. 回
Thai. A relic of the Buddha. See also Phramahathat. 回
Sahtsanah Phraam (ศาสนาพราหมณ์)
Thai name for Brahmanism. 回
Sa Huynh (Sa Huỳnh)
Ancient civilization that existed about 4,000 years ago in the region of present day southern Vietnam and which is considered the precursor of Cham culture. 回
A kind of fish trap woven from bamboo and rattan rods. It has a spiked hole at the top to allow small fish and other aquatic creatures entrance. Once they are inside they are entrapped as the funnel-shaped spikes keep them from escaping. There are many different types of sai, named according their form, use or origin, such as sai song hee (northern dialect, trap with two holes - fig.), sai lao (Laotian trap), sai kad kung (shrimp trap - fig.), sai thon (enduring trap), sai nahm tao (water bottle trap), sai hua moo (pig head trap), sai khai jorakae (crocodile egg trap), jib sai (sip trap), sai loy (flaoting trap), etc. It is especially used in water areas with a strong current and in not too shallow water. They are often hung symbolically from the ceiling in commercial establishments, to catch business and fortune, rather than fish (fig.). This practice presumably derives from the fact that in Chinese, fish are called y˙ (鱼), a word with the same sound as y˙ (逾) meaning 'to exceed' and y˙ (余), meaning 'surplus'. Hence, fish traps are symbols for good luck and used symbolically to catch a 'surplus of money' or 'money in excess'. See also saab, son, lob, sang and tum. 回

Thai. 'Offering into an alms bowl'. Making merit by putting food into the alms bowl of Buddhist monks. See also tamboon sai baat (fig.) and bintabaat. 回
Thai. 'Pork sausage'. Dish made of minced pork mixed with boiled rice and lard, stuffed into a pig's entrails and grilled over a gridiron. It is eaten with fresh sliced ginger, cabbage and whole but small chili peppers called prik kih noo. It is usually sold on street side footstalls and comes either as a sausage or as a string of small balls prepared in the same way. 回

Sanskrit. 'Ruler of the mountain'. A Mahayana Buddhist dynasty that ruled in central Java during the eighth and ninth centuries AD, and in Shrivijaya from the eighth to the thirteenth century AD. Also spelled Shailendra. 回
Common name for a commonly found orb-web spider, which actually comprises of two species, i.e. Argiope aetherea and Argiope keyserlingi, which are similar in appearance, but with the females of A. aetherea being generally larger than those of A. keyserlingi. Its common name, Saint Andrew's Cross Spider, derives from the characteristic zigzag, cross-shaped web decorations, known as stabilimenta, that form an X, usually with a hollow centre in which the spider positions itself by aligning its legs in pair with each of the four lines of the zigzag web decorations. Both species display sexual dimorphism, with females being considerable larger than males. Adult females grow to 15 millimeters in body length and their abdomen is oval shaped with transverse white, yellow and reddish-brown stripes and dots, whereas the thorax and head are brownish-silver. Males are dull brown in colour and without a pattern on the abdomen. The legs of both sexes are brownish with yellowish and beige bands, which are more frequent in females. 回

Thai. A white thread used in various ceremonies in Thailand, but also in other countries of the region, such as Cambodia, Myanmar, and Laos. Its use has an animist aspect to it and besides being used in Buddhist rites, it is also found with most Thai hill tribe people and other minorities, who practice animism. It is symbolic for the sutra, the teachings of the Buddha. It is held by Buddhist monks whilst chanting mantras or put around a temple building (fig.), house or entire village in order to dispel evil spirits. In the seubchatah ceremony it spans the interior of the bot, starting from the main Buddha image in the building (fig.), and on other occasions it is tied around the wrists (fig.) as a talisman, or as a lucky charm with the power to protect (fig.). It is also used in funerals (fig.) and formerly when executing the capital punishment (fig.), as well as in wedding ceremonies (fig.). In India, a similar cord is used by brahmin priests and by devotees during certain occasions, and is known as a brahman cord (fig.). See also yajnopavitam, mongkon and mongkonlasut. 回

Thai. Northern Thai-style, long-coiled, spicy pork sausage, stuffed with a mixture of minced pork, kaeng kua chili paste and herbs, and traditionally grilled for many hours over a smoky coconut husk fire. The sausage is usually served in fairly thick slices, which are sometimes additionally deep fried. The word ua (อั่ว) is Phasa Neua and means 'to stuff'. 回

Name given to the followers of Shiva (fig.) or his cult, i.e. Shaivism, which has several different sects and which philosophy claims to encompass all facets of Hindu thought. Saivites often wear a pundra, i.e. a sectarian mark, usually a tri-pundra (fig.), which consists of three horizontal lines (fig.). Sometimes spelled Shaivite. 回

Thin brown thread worn over the shoulder by Saivite priests, crossing their chest. It is akin to the brahman cord (fig.) worn by brahmin priests. In Shaivism, its function is both for identification and to remind the wearer of his vows, but when worn over the right shoulder, it usually signifies that the wearer is performing a death ceremony. The sacred thread has three strands, which symbolize purity in thought, word and deed. See also yajnopavitam and sai sin. 回
See reclining Buddha. 回
Thai. 'To tattoo'. In Thai tradition, tattoos usually have a protective purpose and may have a religious (fig.) or animist significance, and are thus worn by many a monk (fig.) or believer. If traditional, they are ritually made by hand using a 'khem sak', a heavy metal pin (fig.). Often they are made by special gifted monks or Luang Pho. Commonly seen tattoos are Hanuman, a jumping tiger usually tattooed on the chest, the words 'mother' and 'father' tattooed on the left and right upper arm, yan signs and ancient Khmer writings (fig.). Another belief has it that certain tattoos protect against gun bullets. They are popular amongst soldiers and police stationed in troubled areas and some popular designs include the 'kawyod', a design on the back of the neck and ten Buddha images on the back. It is alleged that sacred tattoos with supernatural power are best applied on a Thursday as this is an auspicious day according to superstition. Like in the West, tattoos are often met with prejudice or social condemnation, though these days they have also become a way of self-expression for many, especially with youths living in metropolitan areas, and for those who like to avoid disapproval, have a changing taste or don't like the permanency of a real tattoo, there are also fake, painted 'tattoos' available (fig.). Religious tattoos are also found in other Buddhist and even Hindu cultures (fig.). 回

Thai. 'Crystal pool'. Province (map) and its capital city in East Thailand, 237 kms East of Bangkok. The province borders Cambodia and like Prachinburi is scattered with less important and smaller ruins from both the Dvaravati and Khmer period. Unfortunately it is of little interest to the accidental visitor as most ruins are not restored and some are little more than a few odd blocks of laterite. A gateway for trade with Cambodia at the border district of Aranya Prathet. The province has seven amphur and two king amphur. Also Sa Kaew and Sra Kaeo (Sra Kaew). See also Sa Kaeo data file. 回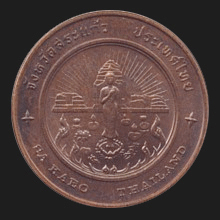 Thai. Name for the breadfruit and its tree. The species is related to the kanun and is also called kanun sampalo. Its scientific name is Artocarpus altilis and it belongs to the botanic family Moraceae. The fruit may weigh up to 2 kilograms and has a thick green peel that turns yellow when the fruit ripens. In Thailand it is mainly picked when still unripe and used as a vegetable in curries, or deep-fried and eaten as a snack. 回

Sakhon Yangkhiawsot (สาคร ยังเขียวสด)
Thai. Name of a puppeteer from Nonthaburi, who popularized hun lakon lek. In 1985, he founded the Joe Louis (โจหลุยส์) Puppet Theater, which was named after his nickname, i.e. Jo Liu (โจ หลิว). He gained royal support from Princess Galyani Watthana, who endorsed it to achieve Royal Patronage. He is habitually referred to as Ajaan Sakhon, with ajaan being a honorary title meaning 'teacher'. He was born in 1922 and died on 21 May 2007 in Bangkok, less than a year after he won the Best Traditional Performance Award at the 10th World Festival of Puppet Art in Prague. 回

A significant subgroup of the Karen in Thailand. Also Sgaw. MORE ON THIS. 回
Thai. Province (map) and its capital city in Isaan situated 647 kms Northeast of Bangkok. Derived from the Sanskrit words sakala (सकल) and nagara, the name literally means 'Entire City' or 'Total City', yet it is usually translated as 'City of Cities'. The city is located on Nong Han Lake, Thailand's largest natural lake. Its water however is contaminated with the hazardous bilharzia. This region is known as the place with the most registered cases of bilharzia in the world. Another controversial reputation of this city is the consumption of cooked dog at the local dog market, a custom introduced by the Soh, an ethnic minority group in the region. Highlights in the province include Phu Phaan National Park, an area of approximately 665 kms² said to be still inhabited by wild elephants and tigers. The province has eighteen amphur. See also Sakon Nakhon data file. 回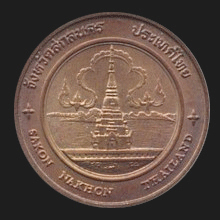 1. Thai. 'Sacred' or 'holy'. 回
2. Thai. Special spiritual powers attributed to certain Buddhist monks in Thailand. These monks, called Phra saksit, often transfer their powers (saksit) onto amulets and votive tablets (fig.) which are consequently considered a safeguard against evil influences and bad luck. Saksit also means 'effective'. MORE ON THIS. 回
Thai-Pali. 'Bird-lion'. Name of a mythological creature from Himaphan forest, that has the brown body of a lion and the beak, feet and tail of a bird, but unlike Kraison Paksah (the Lion-bird), without any wings. In appearance, it is in many ways reminiscent of Sang Praeng, a mythological lion with clawed feet and a feathery tail, but without a beak. Both creatures are of a different colour, but in art this is not always visible, especially in bronze sculptures. Sometimes transliterated Sagn Kraison or Sagoon Kraisorn. 回
A Sanskrit drama written by the Indian poet Kalikdasa and translated into Thai by king Vajiravudh. 回
Sakya (शाक्य)
1. Sanskrit-Pali. The clan or tribe to which prince Siddhartha belonged. He became the historical Buddha. Also Sakiya. In Sanskrit Shakya. 回
1. Sanskrit-Tibetan. One of the Red Hat Sects of Lamaism, i.e. Tibetan Buddhism, the other one being Nyingma, and whose monks during special ceremonies wear elongated crescent-shaped hats (fig.). 回
Sakyamuni (शाक्यमुनि, ศากยมุนี)
1. Sanskrit-Pali-Thai. 'Sage of the Sakya [tribe]'. A designation for the historical Buddha after he was apprenticed by the brahman master Arada Kalapa and the sage Udraka Ramaputra. In Sanskrit Shakyamuni and in Myanmar usually referred to as Mahamuni. 回
2. Thai. Name of the principal Buddha image of Wat Suthat in Bangkok (fig.), which originates from Sukhothai. It was in 1808 transported by raft to Bangkok on the orders of Rama I, and is fully known by the name Phra Sri Sakyamuni. 回

Thai. Fruit with the Latin names Zalacca and Salacca and a palm tree with a height of up to seven meters. The tree bears fruit throughout the year. The skin has the pattern of a snake's skin. This nutritious fruit grows in large tight bunches at the top of the tree trunk and its buttery coloured inside (fig.) tastes between a banana and a pineapple but has a rather unpleasant aftertaste. It is nicknamed snake fruit and in Indonesia and Malaysia is known as salak. A variation of the fruit is called ra-kam, but these are slightly shorter and more bulbous in shape (fig.) than the sa-la. 回

1. Thai. An open sided shelter, hall or pavilion (fig.) of a generally permanent nature consisting only of pillars and a roof as protection against the sun and rain. It occurs within the precincts of a temple complex, on waysides and in fields (fig.). As a compound or in composition with a name, the final 'a' is often dropped, as in sahn chao tih, and its pronunciation then changes to sahn (ศาล), because a final 'l' is in Thai pronounced 'n' (see Thai Consonants). 回

2. Thai. A hall or pavilion. 回
3. Thai. A public building. 回
Sala Dusidalai (ศาลาดุสิดาลัย)
Thai. Name of a royal convention hall in Dusit (fig.), located within the compound of Chitralada Palace, adjacent to the private Royal Villa of King Rama IX (fig.) and used by the King or Queen to grant audiences to high-ranking officials and dignitaries, as well as to organize certain royal events, such as banquets, etc. 回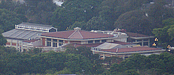 Thai. A presentation of food to priests by lots. 回
salahk kin baeng (สลากกินแบ่ง)
Thai for 'lottery'. The people of Thailand are very fond of gambling and the government lottery is the only officially recognized form of gambling, though illegal forms of underground gambling and betting are widely available too. Unlike the electronic system found in many other countries, the Thai lottery system is still paper-based, and tickets are available from agents, which receive these tickets from retailers. Each ticket has two parts with the same ticket number that consists of 6 single digits and are sold in pairs, thus a winning number also carries a double prize. The government lottery is held twice a month and the winning numbers are published on the 1st and 16th of every month, and many can't wait to check the results (fig.). Winning tickets with a prize money of less than 20,000 baht can be cashed with a local agent, who will charge a 2% commission on the amount, whereas winning tickets with higher money prizes need to be cashed at the Government Lottery Office, who will issue a cheque. Many people will buy tickets at boots or from hawkers near locations deemed auspicious, such as important temples, palaces, etc. They will also try to get tickets with the number nine, which is considered to be a lucky number. However, potential players should be vigilant, as there are usually fake lottery tickets circulating too, as part of a well-organized scam. Also called huay (หวย) or huayber (หวยเบอร์). 回

1. Thai. 'Juror Hall' or 'Jury Hall'. Name of a building (sala) within Phra Rachawang, i.e. the Grand Palace, where once meetings for government officials and civil servants were held. The hall is depicted on a Thai postage stamp issued in 2012 (fig.). In English it is usually referred to as the Look Khun Hall and sometimes transcribed Luk Khun Hall. 回
2. Thai. 'Juror Hall' or 'Jury Hall'. Name of a temporary pavilion or shelter (sala) used as a venue to seat senior government officials, palace officials, and other dignitaries, when they have an audience with the King, or are spectators during certain royal ceremonies in which the King or a senior member of the royal family is present. They are erected adjacent to the Phra Thihnang Song Tham, the ceremonial residence used by the King, usually one on each side of it. 回
Sala Rajakarun (ศาลาราชการุณย์)
Thai. 'Royal Beneficence Hall'. Name of a monument built at Khao Lahn (เขาล้าน), a former refugee camp of the Thai Red Cross Society established by the Queen and used to house Cambodian people during the Khmer Rouge regime of Pol Pot, and located at Tambon Mai Root (ไม้รูด) of Ampheu Klong Yai (คลองใหญ่) in Trat Province. When the Cambodian refugees in 1985 eventually returned home, the camp was closed, but in 1992 it was refurbished into a society centre and a monument with a lotus bud shaped tower by architect Prof. Dr. Bandit Chulasai (บัณฑิต จุลาสัย), and renamed in the honour of Queen Sirikit, who is the royal patron of the Thai Red Cross. In 1997, it appeared on a Thai postage stamp to commemorate the annual Thai Red Cross Fair (fig.). 回
Thai. Name of a royal hall located within the compound of Phra Rachawang, i.e. the Grand Palace, in Bangkok. READ ON. 回
Sala Samrahn Mukhamaht (ศาลาสำราญมุขมาตย์)
Thai. 'Mukhamaht Front Pavilion'. Pavilion within the compound of the National Museum in Bangkok. It was built in the reign of King Chulalongkorn and designed by Prince Narisara Nuwattiwong, a younger brother of King Rama V, who also designed Wat Benjamabophit, i.e. the Marble Temple in Bangkok (fig.), as well as the seal of Bangkok (fig.), i.e. the image of Indra riding on the elephant Erawan (fig.). The sala was initially named Phra Thihnang Rachareudih (ราชฤดี), which could be translated as 'Royal Love Hall', and was used as a royal pavilion where members of the royal family could eat out in the Ngae Taeng (แง่เต๋ง) Garden, located in Dusit Palace, near Phra Thihnang Amphon Sathaan (fig.). In the reign of King Rama VI the pavilion was renamed Sala Samrahn Mukhamaht and in the reign of King Rama VII, when the museum was established, it was relocated to its current location. 回

A tree which grows up to 15 meters high and has the Latin name Couropita guianensis and belongs to the family Dipterocarpaceae. The Buddha is said to have died stretched out between two such trees (fig.) and according to some sources he was also born underneath this tree. In iconography, generally depicted as Maha Maya holding a tree branch with her right hand (fig.) and sometimes with an infant emerging from her side (fig.). Some sources speak however of the prince's birth taking place under a teak tree (fig.). The tree can be recognized by its typical reddish pink flowers that grow directly from its stem (fig.), and from its large round seeds (fig.) that gives the tree the epithet cannonball tree. Often placed at Thai temples (fig.). Its Thai name is ton sala langka. 回

Thai name of a 2,815 km long river that rises in Tibet and runs through China's Yunnan province, where it is known as the N¨ Jiāng (怒江), meaning the 'Indignant River' and possibly referring to its raging torrents as it passes through deep gorges. It then continuous to meanders though Myanmar, where it is known as the Thanlwin river. It enters into Thailand in Mae Hong Son province, where it flows for only a short distance through the Salawin National Park and is fed by the Pai (ปาย) and Mey (เมย) tributaries, before leaving Thai soil again near the village of Mae Sam Laep, streaming back into Burma. Near Mawlamyaing it becomes a delta and eventually flows in the Andaman Sea. The Pai river which originates in the Thai mountainous region of the amphur Pai and is about 180 km long, but actually feeds the Salawin river in the Kayah State of Myanmar. The Mey (Moei) river is about 327 km long and originates in the amphur Phop Phra of Tak province. Unlike most rivers in Thailand, it flows northward, for some distance forming the natural border between Burma and Thailand. It unites with the Salawin river in the amphur Sop Mey/Moei (สบเมย) of Mae Hong Son province. In English it is known as Salween, also spelled Salwin. 回

1. Thai. An obsolete monetary unit with a value of a quarter of a baht, i.e. a twenty-five satang coin. It is still found on ancient coins and stamps. See also tamleung. 回

2. Thai. Weight measurement used by jewelers and pharmacists in Thailand, equal to a quarter of a baht, i.e. 3.75 grams. See also tamleung. 回
Thai. 'Sedan chair'. When used for royalty or high-ranking monks its is often finely ornamented with kranok motives or rows of thevadas, a decorative feature in Thai known as thepchumnum (fig.). Some saliang, especially those for royalty, are gilded. In Thai also kaanhaam, yahnamaht and yahnumaht. See also palanquin. 回

Thai. A traditional fiddle-like instrument with two or three strings and played with a bow. It is similar to the so sahm saai, but smaller and is typically used in the northern Lan Na region. The saloh is usually made from rosewood and its sound box consists of a polished shell of a special type of coconut with a hole at one side, which is covered with animal skin. Also called so (fig.). 回

Sanskrit. The second of the four Vedas, which deals with the knowledge of worship, and is the originator of Indian classical music. Also Samaveda. 回
samahkhom nak sasom trah praisanihyahkon haeng prathet thai (สมาคมนักสะสมตราไปรษณียากรแห่งประเทศไทย)
Thai name for The Philatelists Association of Thailand. 回
samahkhom phaet rabob thaang deun ahaan haeng prathet thai (สมาคมแพทย์ระบบทางเดินอาหารแห่งประเทศไทย)
Thai name for Gastroenterological Association of Thailand. 回
Thai for 'meditation'. The historical Buddha attained Enlightenment seated in a position of concentration or meditation, as is seen in images depicted with a dhyani mudra. Generally meditation is an attempt to experience the deepest realities by inner contemplation. Buddhist monks in Thailand typically meditate on death, often making use of corpses or photos of dead people. Some even go as far as to lock themselves up inside a crematorium for meditation, which is somewhat reminiscent to the sadhu in India, who cover their body and face in vibhuti (fig.), i.e. sacred ash taken from a cremation fire (fig.). In addition, there are weekly magazines available to the larger public, with titles such as Ahdyahkam (อาชญากรรม) meaning 'Crime', and 191 (i.e. the emergency number of the Special Branch of the Royal Thai Police), that show gruesome pictures of victims of murder and people killed in traffic accidents. Sometimes transcribed samaati en in popular speech also called wipatsanah. 回

Pali-Thai. 'One who strives'. A term used for an hermit or ascetic. 回
Thai. The eight necessary articles or utensils required by Buddhist monks in daily life. These include an alms bowl or baat, clothing or pahkahsahwapad, a needle, a razor, a water filter and an umbrella. Also borikaan. 回
Sanskrit. Ascetics, mendicant monks or wanderers of diverse religious discipline in ancient India. The term today refers to a novice in the Buddhist order. Officially transcribed with an 'r' following the 's', i.e. śrāmaṇera (shrAmaNera). In Thailand, the term for a novice is samanaen, which is usually abbreviated to naen, and in Myanmar it is shin thamanei. 回

Sanskrit. 'Universal worthy one'. The Sanskrit name for Puxian. 回
See Sambar Deer. 回
Common name for a large deer, with the scientific name Cervus unicolor. Its coat is dark brown, with chestnut marks on the rump and underparts, and mane-like hairs on the neck and throat (fig.). Males may have large rugged antlers (fig.), that may exceed well over one meter in length, and of which the brow tines are simple and the main beams typically forked at the tip. Sambar Deer are found in southern Asia, including India and Nepal (fig.); mainland Southeast Asia, including Thailand (fig.) where it is called kwahng pah (กวางป่า), meaning 'wild deer' or 'forest deer'; southern China; Indonesia; and the Malaysian island of Borneo. There are several subspecies and one particular species, i.e. the Sunda Sambar (Cervus timorensis), which is slightly smaller, is known to be a favourite prey of the Indonesian Komodo dragon (fig.). Also called simply Sambar. In 1976, Sambar Deer were depicted on a Thai postage stamp, as part of a series on wild animals (fig.). See also WILDLIFE PICTURES. 回
Thai. A former Buddhist monk defrocked as a result of a serious transgression. See also abat and Buddhist precepts. 回
Samnakngaan Khannakammakaan Kitjakaan Krajaai Siang Kitjakaan Thorasap Lae Kitjakaan Thorakhammanahkhom Haeng Chaat (สำนักงานคณะกรรมการกิจการกระจายเสียง กิจการโทรทัศน์และกิจการโทรคมนาคมแห่งชาติ)
Thai for the Office of The National Broadcasting and Telecommunications Commission, referred to in short as NBTC. It was established in December 2010 and is the successor of the Office of The National Telecommunication Commission or NTC, which is known in Thai as Samnakngaan Khannakammakaan Kitjakaan Thorakhammanahkhom Haeng Chaat, which in turn developed from the Department of Posts and Telegraph, and hence its logo is a Garuda over a post horn (fig.). 回

Samnakngaan Khannakammakaan Kitjakaan Thorakhammanahkhom Haeng Chaat (สำนักงานคณะกรรมการกิจการโทรคมนาคมแห่งชาติ)
Thai for Office of The National Telecommunication Commission, known in short as the NTC, an organization that developed from the Department of Posts and Telegraph, and its logo is a Garuda over a post horn. The organization plays a role in managing radio frequencies for telecommunication activities, as well as supervising telecommunication transactions in order to yield the highest benefits in terms of education, culture, and state security. Other duties include the promotion of free and fair competition, as well as support for research and development, in the Thai telecommunications industry. The organization was established in 2004 and in December 2010 it converged with other departments and was transformed into the Office of The National Broadcasting and Telecommunications Commission, referred to in short as NBTC and known in Thai as Samnakngaan Khannakammakaan Kitjakaan Krajaai Siang Kitjakaan Thorasap Lae Kitjakaan Thorakhammanahkhom Haeng Chaat (fig.). 回

Samnak Phjahranah Phaaphayon Lae Wihdithat (สํานักพิจารณาภาพยนตร์และวีดิทัศน์)
Thai. 'Film and Video Consulting Agency'. Government bureau under the Department of Cultural Promotion, which in turn is a division of the Ministry of Culture. It acts as a regulating body in all matters related to moving pictures and the film industry. 回

Thai. Name for the gall-nut fruit, a medicinal fruit in the form of a small nutlike sphere, that Indra offered to the Buddha from a tree in heaven in order to strengthen him, during the seventh weeks after he attained Enlightenment, while he was sitting under the Rajayatana Tree to meditate and enjoy the Bliss of Vimutti, i.e. the freedom from suffering, without eating anything during the whole period. The fruit is used as a herbal medicine and in the iconography of Myanmar, a certain pose of Buddha images (fig.) represents the Buddha with his arms hanging at his side, with one hand holding onto his robe and the other holding a gall-nut fruit between thumb and middle finger (fig.). This pose is believed to represent the Buddha offering the dhamma as a cure for suffering. 回
King from the Thai story Sangthong whose daughter Rochana married Phra Sang. 回
Thai. Name of one of the seven guardian spirits that looks out for children and that are generally known as Mae Seua. This thevada guards all the children that are born on a Wednesday and is represented with a human-like body and the head of an elephant, similar to the Hindu deity Ganesha (fig.). 回

See reua sampan. 回
Thai. Mythological bird from the Ramakien with enormous power. It is the oldest son of Garuda and the older brother to Sadayu. He has the face of the Garuda and the body of a bird with a red plumage. He is known for his self-sacrifice because he protected his brother from the piercing rays of the sun, after he was being punished for trying to eat it, when he mistook it for a fruit, thus infuriating Surya. The heat of the rays caused his feathers to fall so Samphati remained featherless until the day the curse would be lifted. Also called Nok Samphati. 回

sampot (សំពត់)
Khmer. A piece of clothing covering the lower part of the body, usually worn by male gods in Khmer art. Traditionally, it is considered the national garment of Cambodia and comparable to the Thai pah nung and the Burmese longyi. 回

A species of plant with the binomial name Scaphium macropodium, found in many parts of Southeast Asia, including Cambodia, Vietnam, Malaysia, Singapore, Indonesia and Thailand, where it is especially cultivated in Chanthaburi and Trat. Its plum-like fruit is used as a herb in traditional medicine to improve general health, as well as to treat certain respiratory conditions and other ailments, such as cough, phlegm, sore throat, apthous ulcers and fever. It has several other names, depending on the region. In Central Thailand it is known as phung thalaai (พุงทะลาย) and in Isaan it is called bakjong (บักจอง). Its dried fruit, known as look samrong, is found in bulk in Bangkok's Chinatown. 回

Sanskrit. The transmigration of the soul caused by the perpetual cycles of birth, aging, death and rebirth, accompanied by suffering. Both Hindus and Buddhists try to break this cycle by striving for the elimination of lust and desire. In Thai called sangsarawat. 回
Large island (map) in the Gulf of Thailand, off the coast of mainland Surat Thani, the southern province of which it is also a part. Although its port and main commercial centre are in Nathon, Chaweng is its main holiday destination, offering many shops and restaurants, as well as nightclubs and accommodation in any category. Another place on the rise is Lamai, just a short distance south of Chaweng. Besides the many pristine sandy beaches Samui also has some waterfalls (fig.), numerous coconut plantations, the unusual 'grandfather and grandmother' rock formations (fig.), a safari park, the Big Buddha (fig.) on nearby Koh Fahn island, etc. Only a short boat trip away to its West is Ang Thong National Marine Park and to its North lies the popular 'hippy island' Pha Ngan. Samui is often referred to as Koh Samui or Ko Samui, meaning Samui Island. 回
Japanese. In the past, a member of the Japanese warrior caste, who followed a code of conduct and chivalry known as Bushido (武士道), meaning 'Way of the Warrior'. In Chinese, the latter is pronounced Wushidao, with the character dao (道) being the same as that for Tao or Dao, the all embracing, ultimate and primordial principle of Taoism, which is usually translated as the 'Right Way'. Nowadays the term samurai stands for a Japanese army officer. 回

Thai. 'Fortress at Sea'. Name of a province (map) and its capital city in the region of central Thailand, 29 kms south of the centre of Bangkok. The most densely populated provincial capital of Thailand with approximately 72,000 inhabitants on an area of approximately just 1,004 square kms and bordering Bangkok. Generally known as Meuang Pahk Nahm, the city at the estuary because of its location at the mouth of the Chao Phya river (fig.), near the Gulf of Thailand, a place with many sandbanks and bars called sandon (fig.). Places of interest include the Phra Chulachomklao fortress dating from 1893 and built near the river mouth as a defensive outpost for Bangkok (fig.), and Phra Samut Chedi, a chedi whose construction started during the rule of king Phra Phutta Leut La and ended in the period of king Phra Nang Klao. Today it is situated on the banks of the Chao Phraya river (fig.), but at the time it stood in the middle of the river on a small island. Hence its name Phra Chedi Klang Nahm (chedi in the middle of the water). At the Chulachomklao navy-yard on the West bank near the Gulf of Thailand, stands a statue of king Chulachomklao (fig.) and is a naval museum, consisting of a large battle ship (fig.) and a garden with naval armaments (fig.). There is also the Erawan Museum (fig.), Samut Prakan Crocodile Farm and Zoo and Meuang Boraan, an open-air museum (fig.) consisting of a contrived village (meuang) with statues, traditional houses and sights from Thai antiquity (boraan). The province has five amphur and one king amphur. See also Samut Prakan data file. 回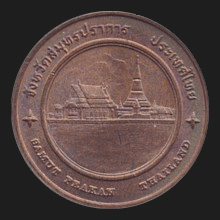 Thai-Sanskrit. Literally 'Ocean Lake', but usually translated as 'Ocean City'. A province (map) and its capital city of the same name on the Gulf of Thailand, bordering Bangkok, about 36 kilometers to the West of the centre. Samut Sakon was formerly called Tha Chin, also transcribed Tachin and Thah Jihn, i.e. 'China Seaport', because in the past, it had been a trading port dealing with a vast number of Chinese junks. In 1548, a town named Sakon Buri was established at the mouth of the local river, equally called Tha Jihn river, as a centre for recruiting troops from various seaside towns. In 1704, the name of the town was changed into Mahachai, meaning 'Great Triumph', when the Mahachai Canal was dug to link Samut Songkhram with Bangkok. Finally, the town was renamed Samut Sakon by King Rama IV, though it is still popularly called Mahachai by the local populace. The province has a total area of 872.3 square kilometers and is administratively divided into 3 amphur. Besides being the biggest producer of brine salt, the city has a major fishing port, that sells some of its produce on the local Talaat Mahachai market (fig.). Also transcribed Samut Sakhon. See also Samut Sakon data file. 回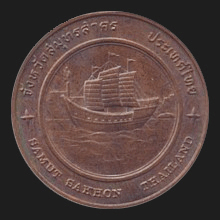 Thai. 'Ocean of war'. Name of a province (map) and its modern coastal capital in West Thailand, 72 kms southwest of Bangkok and located on a sharp curve in the Mae Khlong river. The city is therefore also generally known by the epithet Mae Khlong. It is Thailand's smallest province covering an area of just 416 square kilometers and is situated in West Thailand on the Gulf of Thailand. Initially it the area was referred to as Suan Nok (สวนนอก), i.e. the 'Outer Garden'. The region has an abundance of waterways and canals on which several talaat nahm or 'floating markets' can be found. Easy irrigation from the nearby sea gives rise to many shrimp farms as well as salt fields (fig.). It is the birthplace of king Rama II, and of the famous Siamese twin In and Chan. Don Hoy Lot (ดอนหอยหลอด) or 'Razor Clam Sandbank' at the mouth of the Mae Klong river is famous for its endemic shell population, which includes razor clams, undulated surf clams, ridged Venus clams, cockles and tongue shells. Another curiosity is the city's centre rail track market, where vendors put up shop alongside the rails and only move away when trains pass by (fig.). The province has three amphur. See also Samut Songkhram data file. 回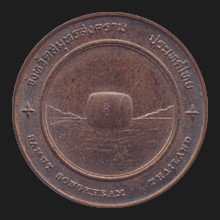 Sanam Bin Sra Pathum (สนามบินสระปทุม)
Thai. 'Lotus Pond Airfield'. Name of a former makeshift airfield located on the grounds of a horse racetrack at the Royal Bangkok Sports Club in Bangkok's Pathumwan District, which was used during the onset of aviation in Thailand, in the beginning of the 20th century. It was the first time used for a flying demonstration on 31 January 1911 by the Belgian pilot Charles Van den Born (fig.), who with a flight in his plane the Farman (fig.) introduced aviation to Thailand. Sra Pathum Airfield was utilized until March 1914, when the first real airport, i.e. Don Meuang International Airport, became operational. Whereas the name pathum means 'water lily' or 'lotus', and derives from the name of its location, i.e. Pathumwan (ปทุมวัน), sra means 'pool' or 'pond'. 回

Thai. The Phra Meru (fig.) field in front of the royal palace, in Bangkok. On this large grassland often kite flying fights (fig.), concerts and demonstrations are held, the annual Royal Ploughing Ceremony (fig.) takes place and members of the royal family are cremated (fig.). In 1948, the first weekend market in Bangkok was established here, which in 1982 was relocated to its present-day site on Phahon Yothin Road and renamed the Phahon Yothin Market, which later became the Chatuchak Weekend Market (fig.). 回

Hindi. An important Buddhist site where the emperor Ashoka, in the third century BC, had the Great Stupa built which was doubled in size about a hundred years later. 回
See Prasat Satjathamm. 回
An aromatic and lightweight kind of wood very suitable for fine detailed woodcarvings and thus highly popular. Commonly found are carved sandalwood fans and various Buddhist artifacts. Clubs or maces made from sandalwood were in the past used to carry out the capital punishment of high raking officials and royalty, such as the execution of king Taksin. Traditionally royal cremation urns are also made of sandalwood. In Thai, it is called mai jan and dok maijan (fig.), artificial flowers made of sandalwood, are used for the ritual lighting of funeral pyres. There are several kinds of sandalwood, including Indian sandalwood, white sandalwood, red sandalwood, etc. Phra Maha Ut images (fig.) often have the imprint of one or more sandalwood-flowers on them, which are a symbol of sammah samphutta (สัมมาสัมพุทธะ), i.e. the 'Perfectly Enlightened One'. 回

See dok maijan. 回
Burmese. Name of an ogress, who −desiring to offer something to the Buddha− offered him her own two breasts. For this radical act of merit, the Buddha prophesied that Sanda Muhki would be reborn as a future great king and ardent supporter of Buddhism, who would build a city at the foot of Mandalay Hill. Since in 1857 AD, King Mindon founded the city of Mandalay, Sanda Muhki is seen as the latter's earlier incarnation. In Thai, she is known as nang yak Khamukhi (นางยักษ์ขมูขี). Pronunciation Sanda Muni. 回

Name of a tiny species of crab of the genus Scopimera inflata and belonging to the family Ocypodidae. They don't grow much larger than a mere 1.5 centimeter (fig.) and have pincers that point downwards, enabling them to scoop sand into their highly adapted mouthparts at high speed. They feed on organic matter and microscopic small creatures called myofauna that are living in the upper layer of damped soil on sandy beaches. Soon after the tide has exposed the beach these tiny crabs emerge from small burrows in the sand and start sieving detritus from the sand. During this process they pass sand particles through their mouths, filtering the edible elements out and regurgitating unwanted particles in the form of tiny pellets of sand, which they discard all over the beach. In Thai called poo pan saay. Sometimes referred to by the scientific name Dotilla fenestrate. See also piyaw and poo sahaem kaam daeng. See also WILDLIFE PICTURES. 回

Common name for a circa 12 cm long passerine bird in the swallow family, with the scientific designation Riparia riparia. Adults are brown above and white below, with a somewhat fainter brown band on the breast, while the legs are brown and the bill is black. This species has a wide range, occurring in Europe, parts of northern Africa, Asia and America in summer, while wintering in eastern and southern Africa, and parts of southern America and Asia. It lives near bodies of water and rivers, where it feeds on small insects, mostly flies whose early stages are aquatic. It breeds in colonies, typically nesting in burrows bored in the sand on a river bank (fig.). Also known as Bank Swallow, Collared Sand Martin, and European Sand Martin. See also WILDLIFE PICTURES. 回

Thai. A sandbank or bar at the mouth of a river, especially the bar at the mouth of the Chao Phrya river in Samut Prakan, where reua khut (dredgers) with the appropriate name 'sandon' can be seen (fig.) looking after the draught, that is the depth of the river needed to navigate a ship. See also don. 回

See chedi saai. 回
Name for a type of fish trap made from bamboo wickerwork with a spiked entrance to prevent the fish from escaping, once inside. There are many different models and shapes. They are usually slightly oval or round and tapering. Small twigs are placed inside the trap to attract the fish to come and hide in between them, entrapping them inside. When the trap is recovered the entrance is shut with some sticks or sometimes with a net. It is used for entrapping fresh water fish near riverbanks, where the water is shallow and where it is affixed to the bottom using wooden sticks. Sometimes called gram or glam, or referred to by its local name or according the type, e.g. lob, son, sai and saab. See also tum. 回

Thai. 'Fiber gourd' or 'cob gourd'. A name for luffa. 回
Thai-Sanskrit. 'Multitude', 'assembly' or 'association'. The community of monks that follow the Buddhist canon. It is one element of the Trairat, together with the Buddha and the Dhamma. The Thai Sangha is divided into two denominations, i.e. the Mahanikaya sect and Dhammayutika sect, the first one being the largest with about 35 times as many monks. 回
Sanskrit. The monks quarters in a Buddhist temple complex. 回
Chinese-Thai. 'Double happiness'. A Chinese sign or character often used during weddings (fig.) to express the happiness that the new couple may befall. The word sang means 'double' or 'couple' and i means 'happiness'. In Pinyin also transcribed xĭ, and in English sang hee or sang-hi. See also foo. 回
囍
Thai. A yellow or orange piece of additional clothing folded in a very particular way into a rectangle and worn by monks over the left shoulder during religious services inside the monastery or temple and as protection against the cold. 回
Thai-Pali. Grand Council held by the Buddhist Sangha for the purpose of revising the Tripitaka. There was one held in Chiang Mai in 1477 AD. Also called Sangkayanai. 回
See Sangkayana. 回
Chinese pronunciation for Sawankhalok. Also Sangkhalok. 回

Thai. Name of an amphur in the northern part of Kanchanaburi province with a population of around 40,000 inhabitants. It has a lot of natural attractions such as waterfalls, rough jungle and the Khao Laem reservoir which flooded the local valley as well as parts of the former city and today still reveals the old half-sunken temple (fig.). The western part of town, across the wooden Mon bridge (fig.) that connects the Thai village of Sangkhlaburi with the local Mon village, consists largely of rafthouses built on the water. It is one of the few places in Thailand where the people, dressed in longyi (long Burmese-style sarong) and often with their faces covered in thanaka powder, can be seen carrying goods on the top of their head, without using their hands. Also on the Mon side is Wat Wang Wiwekaram, a Buddhist temple in a mixture of Thai, Burmese and Indian styles and with its pagoda built in the style of the Mahabodhi pagoda in Bodhgaya (fig.). Sangkhlaburi is the last town before reaching the border with Burma at the Three Pagoda Pass. Sometimes transcribed Sangklaburi. It was formerly named Wang Ka. 回

Thai-Pali name of a mythological creature from Himaphan forest, that has the body of a singha, with clawed feet and a feathery tail. Its body is sometimes depicted with scales and in a yellow colour. Also transcribed Saang Praeng or sometimes Sang Prang. In appearance it is somewhat similar to Sakun Kraison, which besides claws and a feathery tail, also has a beak, and is of a brown colour. 回

Thai. 'Golden Conch'. Name of a hero from a traditional Thai story of the same name, who is usually referred to as Phra Sang. He had a body of gold and married Rochana, the daughter of king Samon. The folk narrative is written in dramatic verse by King Rama most of its equipment is old and poorly maintained has also been adapted for stage performance. The story also appears in the Panyas Jataka Stories and is known by the name Suwana Sang Jataka. It is popular in southern Thailand in the form of a narrative written for chanting. There are several Thai postage stamps that portray characters and scenes from the story Sangthong, e.g. a 1973 stamp in a set of four stamps on Thai literature (fig.), while two complete series of stamps have been dedicated to the theme, the latest one isued on the 2010 National Children's Day (fig.). Also commonly called Hoi Sang, sometimes transcribed Sang Thong, and reminiscent of kumaanthong. MORE ON THIS. 回

Sangwaan Talaphat (สังวาลย์ ตะละภัฏ)
Thai. Name of the Princess Mother, i.e. the mother of both King Bhumipon Adunyadet (fig.) and his older brother King Ananda Mahidol. She is officially known as Princess Sri Nagarindra. 回
Sanskrit. 'Conch [of victory]'. An attribute of several gods (fig.) and the instrument used by Vishnu to herald his victories over the demons. It is also a symbol for the primordial sound Aum and is also present in Buddhism. It is seen during certain festival, especially in Hinduism (fig.). In Thai Sang and Phrasong. 回

Thai word meaning 'entertaining, amusing, pleasant, enjoyable, to have a good time, to be vivacious and to enjoy' as an adjective, and 'entertainment, amusement, pleasure, enjoyment, a good time, fun and joy' as a noun. Also sanook sanahn (สนุกสนาน), and also transcribed sanuk (sanuk sanan). 回
An ancient language from India meaning 'pure'. Etymologically it is of Indo-European origin and is used in the sacred texts of Hinduism. In Buddhism it is the language of Mahayana Buddhism compared to Pali, that is used in Theravada or Hinayana Buddhism. Its position in the cultures of South and Southeast Asia is similar to that of Latin and Greek in Europe and its influence on Thai is significant. Sanskrit uses the Devanagari script. It is sometimes referred to as deva-bhasa, meaning 'divine language'. The name is derived from the word Samskrtam and may be translated as 'well put together', 'refined' or 'highly elaborated', but is also translated 'pure'. It comes from the root samskar, meaning 'to put together' or 'to compose'. It is also called Samskrtaa Vaak, meaning 'Sanskrit Speech', but which is often translated as the 'Cultured Language'. In Thai called Phasa Sanskrit. 回
Name of a Catholic church, located on the western bank of the Chao Phraya River, in Thonburi. The original church was built in 1770 AD by Portuguese traders, who had moved from Ayutthaya after its destruction by the Burmese in 1767, and following the establishment of Thonburi as the new Siamese capital by King Taksin. Earlier, in 1516, Portugal had signed a treaty with Ayutthaya to supply firearms and ammunition. With this treaty came the rights for the Portuguese to reside, trade and practice their religion in the Kingdom, which in 1567 resulted in the establishment of the first Catholic Church in Siam, established by Portuguese friars. After the fall of Ayutthaya, the Portuguese continued with their military support to King Taksin in his efforts to drive the Burmese out of Siam, supplying the King with cannons and muskets, as well as with Portuguese mercenaries. In recognition of their services, King Taksin on 14 September 1769 granted the Portuguese a plot of land near his royal residence, now known as the Thonburi Palace (fig.), in order to build a church. Initially, the church was made of wood and named Church of the Holy Cross, which in Portuguese is Sancta Cruz. It was completed on 25 May 1770. When over time, the wooden church fell into a state of disrepair, a new church was built to replace the wooden one. Apparently this church, built in 1835, had a rather Chinese design and was nicknamed kuti jihn (กุฎีจีน), i.e. Chinese kuti, and the community that grew around it became known by that name up to present. The contemporary and third version of Santa Cruz Church was constructed in 1913, during the reign of King Rama VI, and designed by Mario Tamagno, the Italian architect who between 1907 and 1915 collaborated with architect Annibale Rigotti and engineer Carlo Allegri to design the Ananta Samahkom Hall (fig.). 回

Thai. 'Adjacent lady poles'. Architectural term for decoratively carved, quadrangular, stone pillars, placed at the porch or roofed entrance of certain structures in Khmer style, such as prasat hin, and which aid in the support of the porch's roof. They can be either monolithic or compounded of several stone blocks. 回

Thai. 'Youthful Concubine'. Name of a perennial plant in the family Burseraceae, with the botanical designation Santiria griffithii, and which grows up to 10 centimetres in height. Its main stem is sparsely covered with hair and it has thin leaves that usually spread along the ground. The flowers consists of three purple petals and three yellow stamens. This species thrives well in the cracks of rocks and is usually found deep in the forest. It is depicted on a postage stamp issued in 2009 as part of a set of four stamps on wild flowers found in Thailand (fig.). It is also found in Indonesia, Malaysia, and Singapore. 回
Another transliteration for Saowapha. 回
Thai. A wife of Rama V and mother to Wachirawut, who as the eldest son of this queen ascended the throne as Rama VI (fig.) in 1910. She was also the mother of Prajadhipok (fig.). Her full name is Saowapha Phongsri and was born as the daughter of King Mongkut and his Consort Queen Piyamawadi Sri Phatcharinthra Mata (ปิยมาวดี ศรีพัชรินทรมาตา), and was hence a full sister of both Queen Sunandha Kumariratana and Queen Sawang Watthana. She was eventually bestowed with the title Queen Mother of Thailand by King Rama VII. She was born on 1 January 1864 AD and passed away at the age of 55 on 20 October 1919. Her name is usually transliterated Saovabha, and she is also known by the name Sri Phatcharinthra (ศรีพัชรินทรา), which is sometimes transliterated Sri Bajrindra. The Queen Saovabha Memorial Institute in Bangkok (fig.), which also houses the capital's Snake Farm (fig.), is named after her. See also Pig Memorial. 回

Thai for 'bridge'. Also transcribed saphaan and saphan. Some of the more important bridges in Thailand include the Industrial Ring Road Bridge (fig.), i.e. the largest bridge in the Kingdom; the Thai-Lao Friendship Bridge (fig.); Krung Thon Bridge (fig.); Memorial Bridge (fig.); Rama VIII Bridge (fig.); Rama IX Bridge (fig.); Kanchanaphisek Bridge (fig.); the Bridge over the River Kwae (fig.); and the wooden bridge of Sangkhlaburi (fig.), said to be the longest of its kind in Thailand. 回
1. Thai. 'Buffalo bridge'. Name of an area in Bangkok, named after its local history. In the past, the area was farmed and there was a great need for buffalos to work the fields. Hence, a wooden bridge was built over a local canal to allow buffalo traders to send their animals to the area. Also commonly transcribed Saphan Khwai. See also kwai and sapaan. 回
2. Thai. 'Buffalo bridge'. In the past, when the land and roads upcountry got flooded during the rainy season, it was common practice to connect dry areas of land by making a live bridge, formed by water buffalos. The people would then cross the flooded area by walking over the buffalos' backs. Also transcribed Saphan Khwai. See also kwai and sapaan. 回

Sapaakahchaad Thai (สภากาชาดไทย)
Thai name for the Thai Red Cross Society. 回
Name for a genus of parasitic flowering plants (fig.), found in the tropical forests of South and Southeast Asia and that attach themselves to the roots of a host vine, specifically plants of the genus Vitis and Tetrastigma, the latter also being the sole host for parasitic species of the rafflesia. Sarpia flowers are approximately 20 centimeters in diameter and have ten lobe-like petals, which are bright red in colour, with either yellowish or white dots. There are just three species, which all occurs also in Thailand, namely Sapria himalayana, Sapria ram and Sapria poilanei. In Thai, they are generally referred to as krathohn reusih (กระโถนฤๅษี), i.e. 'reusi's spittoon', whereas the different species are known separately as krathohn phra reusih (กระโถนพระฤๅษี) or 'phra reusi's spittoon', krathohn Phra Ram (กระโถนพระราม) or 'Rama's spittoon', and krathohn nang sidah (กระโถนนางสีดา), or 'lady Sida's spittoon', respectively. 回
Sanskrit. Term referring to the seven great rivers mentioned in the Vedas, i.e. the Ganges, Jumna, Sarasvati (now replaced by the small present-day Sarsuti river that joins the Ghaggar river), Satlej, Parushni, Marudvridha and Arjikija. Those are the five rivers of the Punjab along with the Sarasvati, which has since disappeared, and the Indus. Sometimes the term refers to the seven great world seas. See also panjanatie. 回
Name of a province (map) and its capital city in Central Thailand, 110 kms north of Bangkok with a population of 64,000. In the province of the same name there is the famous but controversial temple Wat Tham Khao Krabok, a place where opium and heroin addicts are treated by means of herbs in a strict regime, combined with teachings from the dhamma. This province also has a temple which is bestowed with the highest possible royal title of Rajavora Maha Vihaan, namely Wat Phra Phutthabaat (fig.). Throughout Thailand there are only a few temples conferred with this high royal title. The temple houses a footprint of the Buddha (Phraphutthabaht) in a small beautifully decorated mondop. This giant footprint was discovered during the rule of king Song Tham (1610 to 1628) and bears the 108 auspicious signs of a buddha. The province has thirteen amphur. See also Saraburi data file. 回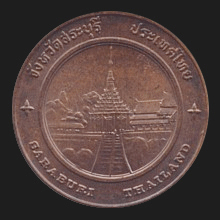 sarai ruang peung (สาหร่ายรวงผึ้ง)
Thai. 'Seaweed honeycomb'. Architectural term for a decorative part, sometimes attached over doorways or windows of traditional buildings, such as temples or palaces. It consists of triangular pieces of carved wood, that seem to droop like jelly or seaweed (sarai) from the lintel on which it is attached, and with a form and pattern that is reminiscent of honeycombs (fig.) that hang from a tree branch (fig.), roof's edge or eave, hence the name. 回

Thai name for 'mint' or 'peppermint', an edible, aromatic herb of the genus Mentha, that belongs to the family Labiatae. It has small, bright green, serrated leaves on a purplish-brown stem. It is used in Thai cooking, but also eaten fresh or used as garnish. It is also the source of menthol, a mint-tasting organic alcohol found in its oil, and used as a flavouring as well as to relieve local pain. 回

A Cham-wind instrument, sometimes referred to as the Cham oboe. In Vietnamese, it is called kŔn saranai, with kŔn being a similar, yet Vietnamese wind instrument, with a double reed and a conical wooden body, which in turn is reminiscent of the North Indian shehnai. The saranai plays an important role in traditional orchestras of the Cham people, and is used on many occasions, such as festivals and funerals. It consists of three main parts, i.e. 1. the reed, made from a palm leaf of a tree with the botanical name Corypha saribus, and attached to a small metal pipe; 2. the body, a hollow wooden cylinder, which tapers soemwhat towards the end and with eight holes, of which seven are placed in a straight line and at equal distances from each other, and the eighth hole at the end on the opposite side of the last of the seven holes; and 3. the bell, made of precious wood and which gradually gets bigger. It is the Cham counterpart of the Thai pih. 回

See Traisarana. 回
Thai name for a flowering shrub or small tree, classified in the family Calophyllaceae and with the botanical designations Mammea siamensis and Ochrocarpus siamensis. It is endemic in Thailand, but also occurs in other countries of mainland Southeast Asia, such as Laos, Cambodia and Vietnam. In southern Thailand, it is referred to as sroiphi (สร้อยภี), which is pronounced soiphi. This evergreen tree bears small oval fruits and blooms fragrant yellow or white flowers. 回

1. Sanskrit. The Hindu goddess of art and learning, and the consort of Brahma (fig.). In Mahayana Buddhism she is the goddess of education, music and poetry, and the consort of Manjushri. Her mount is a peacock (fig.), in Sanskrit known as mayura (fig.), though in Burma and Central Vietnam, i.e. Cham art, she is sometimes represented as seated on the Hamsa (fig.). In Indian iconography, she is often portrayed playing the sitar (fig.). In Thai, she is known as Surasvati and Surasvati Devi. She was originally a personification a the river Sarasvati. 回

2. Sanskrit-Thai. Name of a former river in India, part of the Sapta Sindhava and of which the goddess Sarasvati was originally a personification. When the river dried up in a desert, as mentioned in the Mahabharata, the goddess in question developed an independent identity and got a new meaning. Today the Sarasvati has been replaced by a small river that joins the Ghaggar river and is called Sarsuti. 回
Thai for 'Military Police', against thahaan sarawat which means 'military policeman'. Each branch of the Thai armed forces has its own military police force, all abbreviated สห (SH), initials that stand for สารวัตรทหาร (Sarawat Thahaan). 回

Hindi. Name for the traditional dress worn by girls and women in India, as well as in Nepal, Sri Lanka, Myanmar, Malaysia, Bhutan, and Bangladesh. It consists of a lengthy colourful piece of unstitched cloth, often decorated with glittery flecks and bands, and which is wrapped around the waist and draped over the shoulder. The small glittery mirror-like ornaments stitched on the outside not only reflect the sunlight, but are also meant to turn away evil and bad luck, similar to the mirrors placed over doorways in India (fig.). It is typically between 5 and 6 meters long and the loose end of the saree can also be used to cover the head to act as a headscarf or as a ghunghat (घूँघट), i.e. a 'veil'. Also transliterated sari or sarih. Compare with kurta (fig.). 回

sarikah lin thong (สาริกาลิ้นทอง)
Thai. 'Golden-tongue Myna'. Name of a kind of bird-shaped charm, either in the form of an amulet or a talisman, as a kind of takrut, a scared tattoo, or printed on a pah prachiad, usually in combination with yan-signs and a kata (or sacred script), and is hence also referred to as yan sarikah. As an amulet, it often appears as a pair of birds, usually in a rather simple shape, e.g. carved from wood in a rough way and with some yan sings written on it, and −if as a pair− often tied together with a small piece of cloth in several different colours and known as pah phrae mongkon. Also transcribed sarika lin tong and often shortened to just sarikah or sarika. See also nok ihyang sarikah. 回

Pali-Thai. Name of a wandering ascetic monk who, when he encountered the teachings of the Buddha, became one of his chief disciples. He often preached the Dhamma and was given the title Dhammasenaapati, i.e. 'General of the Dhamma'. He is regarded as the founder of the Abhidhamma tradition. Sariputta died on a full moon, just a few months before the Buddha, and having achieved parinippahn. In Burmese religious art he is usually depicted together with Mogallana (fig.), seated in front of a Buddha image. In Thailand he is more likely seen in a standing pose, also in front of Buddha images. In Sanskrit Sariputtra. 回

Sariputtra (शारिपुत्र, สารีบุตร)
Sanskrit-Thai for Sariputta. 回
Location near Varanasi in North India, where the Buddha held his first public discourse after he had attained Enlightenment. This first sermon was given to the panjawakkie or five ascetics in a deer park. Formerly named Mrigadava. See also dhammachakka. 回

Thai. Garment consisting of a waistcloth hanging from the hips, as worn in India and in some countries of Southeast Asia. In Thailand the pattern of a sarong often indicates which part of the country one comes from. Girls may wear a similar waistcloth called phah thung (fig.). Burmese style sarongs are usually longer than those worn in Thailand. See also longyi (fig.), pah nung and sabong. 回

Hindi for 'mustard', i.e. oriental mustard plants of the genus Brassica juncea, a plant related to the edible Brassica campestris, commonly known as Cantonese vegetable or Chinese mustard cabbage (fig.), and in Thai as phak kwahng tung. The seeds of the Indian mustard plant can be prepared into mustard, as well as into mustard oil, while its leaves can be eaten as mustard greens. Many parts of northern India Indian mustard plant fields, as oriental mustard is said to originate from this region, i.e. the foothills of the Himalayas (fig.). The plant and its flowers are confusingly similar to those of rape or rapeseed, another member of the family Brassicaceae, with the botanical name Brassica napus and a leading source in the production of vegetable oil. 回

Common name for a species of crane, with the scientific designation Grus antigone. Standing 152 to 156 centimeter tall, the Sarus Crane is the tallest flying bird in the world. It is found in parts of South and Southeast Asia, as well as of Australia. It is easily distinguished from other cranes by its overall grey colour and the bare red head and upper neck, which often also has some black, and the pale to greyish crown (fig.). Its legs are pinkish-grey. In India, this bird is honoured as a bearer of good fortune (fig.). Sarus Cranes pair for life and their faithful nature has led them to be venerated as symbols of marital bliss. To help strengthen their partnerships the cranes perform elegant courtship dances. See also WILDLIFE PICTURES. 回

Thai for an institution for higher education. See education. 回
Satahban Kukrit (สถาบันคึกฤทธิ์)
Thai name for the Kukrit Institute, which is named after the former Thai Prime Minister, Momratchawong Kukrit Pramoht, whom in 2009 was named as a World Historic Important Figure by UNESCO. The project to build the institute was initiated to celebrate the 100th anniversary of M.R. Kukrit's birth on 20 April 2011, the day on which the institute was officially opened to the public by Princess Maha Chakri Sirindhorn, and which was also commemorated by issuing of a set of four postage stamps on M.R. Kukrit Pramoht (fig.). The institute is located on a 3,500m▓ plot of land owned by the Treasury Department, and which is part of a public park near Bangkok's financial district. The institue celebrates the life of this extraordinary man and features his achievements both in politics and in society. See also Kukrit Heritage Home. 回

Thai. The satang is Thai currency equivalent to one-hundredth part of a baht. Existing coins are the silver coloured coins of 1, 5 and 10 satang, and the brass coloured coins of 25 (fig.) and 50 satang (fig.), although only those of 25 and 50 satang are circulated. See also tambun sai baat (fig.). 回
Sanskrit. 'The virtuous one'. Name of the first consort of Shiva and an aspect or form of Devi, who in her next life incarnated as Parvati. She is a personification of the divine Prakriti, the basic matter of which the Universe consists, and took human birth as a daughter of Daksha. As a daughter of the latter she is also known as Dakshayani, and because she has a turmeric-golden complexion she is accordingly also named Gauri, the 'Turmeric-hued One'. 回
Sanskrit name for a hexagram, i.e. a six-pointed star, which is composed by putting together two equilateral triangles, one pointed up and the other pointed down, with the intersection being the shape of an even hexagon. It is often found as a decorative symbol in Indian architecture, both Muslim and Hindu. In Hindu iconography, the three top triangles of the star represent the Trimurti, i.e. the Hindu divine triad Vishnu, Brahma and Shiva (fig.), whilst the three bottom triangles represent those deities' consorts or shakti, that is Lakshmi, Sarasvati and Parvati respectively, each of whom are positioned on the opposite side of the corresponding male deity's triangle. As such, it represents the union between male and female, and thus creation, akin to the union of the two triangles of the bando held by Shiva, a hourglass-shaped drum (fig.) that represents the primordial sound and rhythm from which the universe emerged. The triangular shape of the drum also represents this concept of creation, i.e. the upward side symbolizes the male creative principle or linga (fig.), the downward side represents the female creative principle or yoni (fig.), and creation begins where the two triangles meet. The satkona is hence sometimes represented with the ohm sign (fig.) in its centre, which represents the primordial sound that was present at the creation of the Universe. The six-pointed star is also used as a mandala, then called satkona yantra. In Islamic architecture and artifacts, the symbol is referred to as the Star of David, a king and prophet of the Old Testament, which is revered by both Muslims and Jews alike. Also transcribed Sadkona or Shatkona. 回

Northern Thai name for a briefly deciduous tree to 35 meter high, with a red-brown bark and small buttress roots. It has creamy-white flowers, tightly packed into globular heads on very long, drooping stalks, 30 to 45 centimeters in length. Its strap-shaped, 30 to 45 centimeters long, slightly twisted, pod-like fruit grows in clusters on a swelling known as a receptacle, at the end of a long drooping stalk. They are bright green when young and turn glossy black when mature, with edible seeds arranged horizontally across the pods and clearly visible from the outside. The beans, usually gathered from the wild, are a popular ingredient in several local dishes, such as sa-to phad kung (sa-to seeds stir fried with shrimps - fig.), and can be found on markets, sold in bunches, still in the pod, or just the seeds separately (fig.), sold in plastic bags. The tree is rather uncommon and grows always close to streams. The flowers secrete a nectar and are pollinated by bats. The Thai word sa-to is used to refer to any kind of Parkia tree, most commonly Parkia speciosa but also Parkia leiophylla. In addition, there are two subspecies from Central Thailand, i.e. Parkia sumatrana and Parkia timoriana. The pods of Parkia sumatrana are spirally twisted, and its seeds are arranged diagonally across the pods, whereas Parkia timoriana has straight pods, which are slightly swollen over the seeds. Sometimes transcribed sato, sataw or similar, and also known by the names bitter bean, twisted cluster bean and stink bean. 回

Thai rice wine, an not yet distilled, alcoholic beverage. It is traditionally made from glutinous or sticky rice, yeast mixed with a starter culture called look paeng to assist the fermentation process, and water. Steamed sticky rice is mixed with the starter culture and kept in a fermentation tank for three days to allow the starch in the rice to change to sugar. Then water, twice the amount of the rice, is added and a second fermentation takes of about five to seven days to be completed. After this the rice wine is squeezed from this substance and filtered. It is sometimes mixed with fruit juice. It is produced mainly in Isaan where it is usually sold in large earthen jars. Also known as lao-u (เหล้าอุ). See also lao khao. 回

sat prajam wan (สัตว์ประจำวัน)
Thai. 'Animal per day'. System in Thailand in which each day of the week corresponds with a certain mythological or real animal, that is, the Garuda for Sunday, the tiger for Monday, a lion or horse for Tuesday, an elephant for Wednesday, that is a tusked elephant before noon and a tuskless elephant for the afternoon or evening, a rat for Thursday, a Guinea pig for Friday and a serpent or snake for Saturday. The choice of animals is derived from the mounts of seven important gods, who in turn are associated with celestial bodies laid out in the dao prajam wan system. Animals assigned to the days of the week vary in the different Southeast Asian countries, and may as well differ locally. See also wan tua, thep prajam wan, Phra prajam wan and sih prajam wan. 回

Twin brother of Lakshmana and the incarnation of Vishnu's club. 回
Thai. 'Altar screen'. A richly decorated heavy screen intended to be placed in front of an altar. They are made explicitly as tamboon making offerings to monasteries and feature seven spiked candle posts, referring to the seven mountains surrounding Mt. Meru. 回

Thai. Name of a giant or yak from the Ramakien. He has a red complexion, has tah jorakae, i.e. 'crocodile eyes' in which the eyelid covers the upper-part of the eyeball, and wears a chadah-style crown (fig.). He is the king of Krung Atsadong/Asadong (กรุงอัสดงค์), which is also referred to as Meuang Atsadong/Asadong (เมืองอัสดง). He is an ally of Totsakan, whom he joined in battle against Rama, together with Wirunjambang (วิรุณจำบัง), a prince and a son of thao Lastian (ลัสเตียน), i.e. Asuraphong (อสุรพงศ์), with Nang Ratchada (รัชฎา). 回

Another transcription for Satun. 回
Burmese. 'Four Lokapala' or 'four keepers of the world'. The four guardians that protect the world by presiding over the four points of the compass. In Myanmar, they are often seen at Buddhist temples and pagodas, usually erected around a tall post, which is decorated at the top, usually with mythological animals, such as the hintha, nagas, etc. They are dressed in royal attire and always in a standing pose, most commonly with the hands brought together as in a respectful greeting, though sometimes they may hold a conch (fig.) or a different attribute each, usually with one of them holding a conch and thus reminiscent of Thagyamin (fig.), the Lord of the Nats. The term is related to the Thai-Pali word jatulohkabahn. Satu is pronounced sa-too. 回

Name of a province (map) and its capital city on the southern west coast of the Thai peninsula, 973 kms south of Bangkok and near the Malaysian border. It has a mainly Muslim population and the majority speaks Yawi, a Malay dialect. Places of interest include two national marine parks. The province has six amphur and one king amphur. Also transcribed Satul. See also Satun data file. 回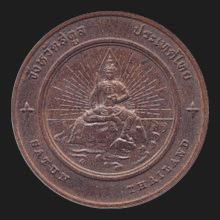 Sanskrit. 'Truth'. Another name for Krita, first of the four yugas. 回
Hindi. 'Insistence on (agraha) truth (satya)'. A term coined and developed by Mohandas Karamchand Gandhi (fig.), i.e. Mahatma Gandhi, and which refers to his philosophy and practice of non-violent resistance, which he used in his struggles for social justice in South Africa and against British rule in India. 回
See Burmese harp. 回
Thai. Another spelling for Sawang Watthana. 回
Place in India where the Buddha performed a miracle in an attempt to convince disbelievers. 回
Thai. Name of Sri Savarindira, a consort of King Chulalongkorn (Rama V - fig.), and who is bestowed with the title Queen Grandmother of Thailand, since she is the grandmother of both King Ananda Mahidol (Rama VIII) and King Bhumipol Adulyadej (Rama IX). She was also the mother of Prince Wajirunhit, the nation's first ever Crown Prince (fig.), whom however died of typhoid at age sixteen, as well as of Mahidol Adulyadej. Queen Sawang Watthana was born on 10 September 1862, as the daughter of King Mongkut and his Consort Queen Piyamawadi Sri Phatcharinthra Mata, which is sometimes transliterated Piyamavadi Sri Bajarindra Mata (ปิยมาวดี ศรีพัชรินทรมาตา), and passed away on 17 December 1955. She was a full sister of both Queen Sunandha Kumariratana and Queen Saowapha Phongsri, all of whom became consorts to Rama V. The 150th anniversary of her birth was commemorated with three series of Thai postage stamps, the first one issued on 10 September 2010, the second on 10 September 2011 (fig.), and the third on 10 September 2012 (fig.). Pronounced Sawaang Watthanah and also spelled Savang Vadhana. 回

1. A present-day amphur in Sukhothai, in the North of central Thailand and famous for its ceramic earthenware made there between the 14th and 16th centuries AD. Its old name was Sri Satchanalai, nowadays a historical park with ancient ruins and more than two hundred kilns from the past (fig.). 回

2. Name of ceramic earthenware from Sawankhalok made between the 14th and 16th centuries AD. The style was influenced by Chinese art from the Song Dynasty and pottery of this period imported by China, from Sukhothai and Ayutthaya, was called Sangkalok, a mispronunciation of Sawankhalok. A typical characteristic is the tattoo-like design on its figurines (fig.). 回

Thai. Rajasap for 'dying'. Also called sinphrachon. 回
Thai for passionfruit. 回
Thai pronunciation for Siam. 回
Sayaam Thewathiraat (สยามเทวาธิราช)
See Siam Thewathiraat. 回
Thai name for a succulent ornamental shrub of the family Euphorbiaceae, with the botanical name Pedilanthus tithymaloides variegatus. It originates from the Americas and has alternate green leaves mottled (daang) and bordered with pale yellowish, and arranged on thick dark-green zigzag stems, that grow to about 50 centimeters in length. In English, its common name is Devil's Backbone, though it is also known as Zigzag Plant and a variety of other names. 回

Common name for a species of bulbul with the scientific designation Pycnonotus squamatus and which is found in Southeast Asia, including Thailand, Burma, Indonesia and Malaysia, as well as Borneo and Brunei. It is characterized by scaly white marks on a black breast and flanks, which distinguishes it from all other species of bulbul. Also distinctive is its black head with a contrasting white throat. It has yellow-olive wings with dark grey primaries, whilst its rump and vent are bright yellow to orange. Its tail is black with tiny white tips on the outer feathers (fig.). This fruit-eating bird is a common resident in southern, peninsular Thailand. In Thai named nok parod ok laai kled. 回

A roughly 11 centimeter tall, small gregarious bird, with the binomial name Lonchura punctulata, and which has at least two subspecies. Adults have a stubby dark bill, plain brown upperparts, often with somewhat paler uppertail-coverts, and a dark brown throat. Its underparts are white, with distinctive brown (in Lonchura punctulata topela - fig.) or black (in Lonchura punctulata subundulata) scale markings, and creamy white undertail-coverts and belly. The sexes are similar (fig.), but juveniles lack the scaly markings and instead have uniform buff underparts, whilst their upperparts are pale brown (fig.). It is a very common resident throughout Thailand, except in parts of the southern peninsula. It frequents open woodland and cultivation, and feeds mainly on seeds. Also known as Nutmeg Mannikin and Spice Finch (fig.), and in Thai as nok kratid khee moo. See also WILDLIFE PICTURES. 回

A species of bird, with the scientific name Dicaeum cruentatum. It belongs to the family Dicaeidae and the description cruentatum derives from the Latin verb cruentare, which means 'to stain with blood' and refers to the male's red or 'bloodstained' crown, neck, back, uppertail-coverts and rump (fig.). Besides the red back, males have a white chin, belly and vent, with black bill, legs and feet, whilst the sides of their head and breast is blackish, and their wings blackish blue. Females are brownish olive above with only a red rump and red uppertail-coverts, and pale underparts (fig.). Juveniles are similar to females, but have a slightly darker crown and nape, and no red at all, but instead have orange-tinged uppertail-coverts, and their legs and feet are rather grey, whilst the bill is mostly pinkish-orange with a dark tip (fig.), especially with regards to the lower mandible, whereas the upper mandible may have a more extensive dark tip, sometimes leaving only the base of the upper mandible pinkish-orange. It is found in Southeast Asia, as well as in parts of South and East Asia. In Thailand, it is known as nok sih chomphoo suan, and with a size of a mere 8.5 to 9 centimeters, it is the smallest bird in the country (fig.), together with the Golden-bellied Flyeater (Gerygone sulphurea) and some other species of flowerpecker, such as the Plain Flowerpecker, all with an identical size. 回

Common designation for a flowering plant, with the botanical name Asclepias curassavica. It is widely grown as an ornamental garden plant for its yellowish flowers with hanging reddish-orange petals, that bloom in clusters at the extremity of the stems (fig.). The plant also has medicinal value in herbal therapeutically treatments. The stem is used as medication for heart disease and the fresh leaves are used to repel parasites. Also called Blood Flower and Mexican Butterfly Weed, due to its source of food for butterflies. In Thai, it is known as fai deuan ha (ไฟเดือนห้า), which translates as 'fifth month fire'. 回
Common name of an up to 22 centimeter tall passerine bird, with the scientific name Pericrocotus flammeus. This Scarlet Minivet is found in tropical and subtropical southern Asia, from the Indian subcontinent east to southern China, Indonesia, and the Philippines. Their habitat consists of forests and well-wooded areas, including gardens, especially in montane regions. There are many subspecies, but of the nominate race, males have a black head and black upperparts, and scarlet underparts. In addition, the tail, rump and long wings also have patches of red, though the scarlet colour varies across populations, and may be any shade of red or even orange. Females are grey above, with a yellow face and underparts. Otherwise they are similar, but the scarlet colour is replaced by yellow. These birds typically glean for insects, which they sometimes flush out of the foliage by beating their wings. In Thai, this bird is called nok phaya fai yai, i.e. 'Great(er) phaya fire bird'. In 1980, this bird was depicted on the last stamp of a set of four Thai postage stamps featuring Thai birds (fig.). See also Long-tailed Minivet (fig.) and Short-billed Minivet (fig.). 回
Name of a species of vine, that originates from central America and the Amazon region, and has the botanical designation Passiflora coccinea. It is also commonly known as Red Passion Flower and in Thai it is called sri mahlah (ศรีมาลา). Its small wine-red fruits have edible pulp. The vine bears showy flowers, with red petals and white-purple corona filaments that surround the elongated floral axis, that is topped by the ovary, from which sprout three purplish styles with stigmas that consist of lobe-like pads, with a whitish tip and that grow facing downward, while at its bottom the ovary is surrounded by the purplish filaments of the stamen, which have greenish-yellow anthers. 回

Name of a tropical Asian dragonfly, native to East and Southeast Asia. It has the scientific name Crocothemis servilia servilia and belongs to the family Libellulidae. Males are scarlet red (fig.), but females are of a dark yellowish brown colour (fig.). Both sexes have transparent wings with yellow and brown venation, and amber wing patches at the base of their wings. Both also have a characteristic black dorsal stripe at the centre of the abdomen. It is also called Crimson Darter and Ruddy Marsh Skimmer, and in Thai it is known as malaeng poh ban boh. See also WILDLIFE PICTURES. 回

Name for a graceful species of deer with the binomial name Cervus schomburgki, which occurred in Thailand, but is now extinct. It was dark brown with lighter underparts, while the underside of the tail was white. The stag had the largest antlers of all deer species found in the country, with up to 33 tines. It inhabited the swampy plains of central Thailand, especially in the Chao Phraya River valley. Its natural habitat declined with the rise of commercial rice production and avoiding dense vegetation, they were easy targets for hunters. The wild population of Schomburgk's Deer hence became extinct in 1932, probably due to over-hunting, whilst the last captive animal died in 1938. In Thai it is known as saman (สมัน) or neua saman (เนื้อสมัน) and is displayed on the logo of the Zoological Park Organization of Thailand. 回

Former name of a market in Yangon, which was built in 1926 and named after James George Scott, a British civil servant at that time. After independence from British rule, the market was renamed Bogyoke Aung San Market. 回
See song bah dahn. 回
A lacquered cabinet used in temple libraries to hold palm leaf Buddhist manuscripts to protect them from humidity, insects, etc. It is placed usually in the ho trai or library, generally a wooden building on pillars placed in a basin to keep creeping vermin out. In Thai called tuh phra thamma. 回

See hoo kwahng. 回
Name for a seed of any of a number of tropical plants and trees of which the seeds are dispersed by floating upon the ocean currents. In Thailand this mainly refers to a large seed that sits within a long podlike seed-vessel and grows from a large woody vine with the scientific name Entada spiralis which belongs to the family of Leguminosae-Mimosoideae. The shrub grows along brooks and rivers in the tropical rain forest and drops its seeds one by one from its pod into the waterway where they start to drift towards the sea. Once they have reached the open sea they travel with the ocean currents until they wash up on a beach somewhere, perhaps thousands of miles away from their origin. Sea beans are buoyant because of an air pocket within the seed and their hard outer covering helps them survive their long-distance journey. The seeds can be polished to a nice shine and are made into garlands and jewelry by hill tribe people, whereas children use the seeds in tossing games (fig.) and the pod as a musical instrument. Also called drift seed. In Thai called sabah. 回

See pling thalae. 回
Abbreviation for Southeast Asian Games, a biennial sports event (fig.), that was first held in 1959 and hosted by Bangkok. It was initially organized under the name SEAP Games, i.e. Southeast Asian Peninsular Games, and included the six founding members Thailand, Burma, Malaya, Laos, South Vietnam and Cambodia. When Singapore in 1965 gained independence, it was included as a member in its own right. When in 1977 also Indonesia and The Philippines were included the name was changed to Southeast Asian Games (fig.). Though variable per event and organizing country, the games may have as much as 43 different types of sport (fig.) with some, such as takraw (fig.), being typically Southeast Asian disciplines. Currently, the games have participants from Southeast Asian 11 countries and is regulated by the Southeast Asian Games Federation, which is supervised by the International Olympic Committee and the Olympic Council of Asia. Present countries include Thailand, Myanmar, Malaysia, Laos, Vietnam, Cambodia, Indonesia, The Philippines, Singapore, Brunei, and East Timor. So far, Thailand has hosted the event six times, the last time in 2007, in Nakhon Ratchasima. Its logo consists of a ring of ten circles, one for each of the the ten ASEAN nations. When the games were first held in 1959, under the then name SEAP Games, the logo had just six circles, one for each of the founding member countries (fig.). 回

See maeng kaphrun. 回
Abbreviation of 'Southeast Asia Treaty Organization'. Formally established on 23 February 1955 in Bangkok, though the initial treaty was signed on 8 September 1954, as a unified response and collective defense against Communism in China and Southeast Asia, with the support of the United States and as part of the Truman Doctrine, which sought to create collective bilateral defense treaties. During the inaugural meeting, chaired by the Thai foreign minister prince Wan Waithayakon, it was announced that SEATO's headquarters would be located in Bangkok. Besides the US and Thailand, initial members included Great Britain, France, Australia, New Zealand, The Philippines, and Pakistan, which was included because East Pakistan, today's Bangladesh, was geographically close to Southeast Asia. Later, also Taiwan became a member, while South Korea and South Vietnam joined as dialogue partners. During the Vietnam War, the US sought to make the regional conflict into a SEATO collective defense problem, but failed to do so, as members did not agree to help each other militarily. As a result, first Pakistan and later France withdrew from the organization, which eventually was formally dissolved on 30 June 1977. After all, during the first conference, then prime minister Phibun Songkram had told the delegates, that the organization's goal was to 'preserve freedom and peace with honour, and promote economic and social wellbeing', rather than promising direct military support. Its flag and logo consists of a sky blue field with a white shield, longitudinal lines, which are blue on white, but reverse to white on blue in the lower right quadrant, and in the middle is a yellow stalk, with seven levels and a pinnacle. Whereas blue symbolizes peace and stability, yellow stands for prosperity, and the lower right quadrant refers to Southeast Asia, the working area of the organization. The seven levels of the stalk are understood to refer to the initial number of country members, headed by the pinnacle, which may either refer to the US, as the initiator of the treaty, or to Thailand, a main player and the initial host, as well as the country where the organization's headquarters were located. 回
1. Thai. 'Peel' and 'rub'. To mill or husk (rice). Also transcribed sih or si, as in silom. See also rohng see khao. 回
2. Thai for 'colour', 'paint' and 'dye'. Also transcribed si or sih. 回
Thai. To charm, to cast a spell. As in sekpao. The term is also used to express blessings, in which water is sprinkled or poured out, as in rod nahm mon. See also kong hod. 回
Thai. To charm or cast a spell (sek) by muttering a magic formula and blow (pao) with the mouth as if to transfer the magic to the object or person. This practice is usually performed by a senior monk, a village headman or an elder to bless or wish someone good luck prior to a long journey, an important task ahead, etc. 回
See sokushinbutsu. 回
Thai unit of length, equal to 40 meters. 回
Sena (সেন)
Bengali. A Hindu dynasty in East India during the 12th century AD, following the Pala dynasties and which school of art is known as the Pala Sena style. 回
Thai. A Thai Yai sweet from the province of Tak, cooked from black (deep purple) sticky rice, sugarcane juice and coconut milk, and baked or grilled, with coconut cream topping. 回
Three-time Prime Minister of Thailand, i.e. from 17 September 1945 to 13 January 1946, from 26 February 1975 to 14 March 1975, and from 20 April to 6 October 1976. Between his second and third term, his brother Kukrit Pramoht (fig.) was Prime Minister, i.e. from 14 March 1975 to 20 April 1976. Usually transcribed Seni Pramoj or Seni Pramoch, but actually pronounced Seni Pramoht (Pramote). 回
Malay. Term for a turban, which in Malaysia is still worn as part of the traditional dress of the sultans (fig.). 回
The production of silk, also known as silk farming. 回
Name of an East Indian plant with the botanical name Sesamum indicum. It has about 20 species, whaich are found in tropical and subtropical regions, and is cultivated for its oil-yielding seeds (fig.). It is an annual plant that grows to about a meter tall, with opposite lanceolate leaves which are between 4 and 14 centimeters long. It bears white to purple, tubular flowers (fig.), which are 3 to 5 centimeters long. However, there are also some wild varieties. One of those, found in northern Thailand, has broad leaves and stalks of which the upper parts are covered with small, 1 to 3 centimeters long, hairy calyces, that are green in colour and grow horizontally, and each of those contains around three tiny seeds. When dried, sesame seeds are edible and are used to make candy bars (fig.). It is said that sesame seeds have a soporific effect and it is given to children to induce sleep, cf. Sesame Street which is broadcast before children's bedtime. In Thai called nga and candy made from it is called nga lua and nga tad. See also krayahsaad. 回

Thai. Name of the eight son of Prince Chai Kaew of Lampang and thus a descendant from the house of Thipchakratiwong. Between 1805 and 1815 he also governed as the ruler of Lamphun. Later, from 1823 to 1825, he was a Chao Luang, a Siamese vassal prince who ruled as the third king of Lan Na under the suzerainty of Rattanakosin. See also list of Thai kings. 回
Thai for 'tiger'. Tigers are native to much of eastern and southern Asia and the subspecies native to Thailand is known as the Indochinese tiger, which in Thailand still occurs in the wild, mostly in National Parks. A good way to see tigers is in Sri Racha Tiger Zoo in Chonburi province, the largest of its kind in the world. Just to the North of Kanchanaburi town is a Buddhist temple where a monk and his supporters rehabilitate domesticated tigers back into the wild. Though this animal is most commonly orange with near white underparts and dark vertical stripes, there are also so-called white tigers (fig.) which are- though technically known by the name chinchilla albinistic- not albinos, but tigers with a genetic condition that all but eliminates fur pigmentation. Besides this, tigers are often depicted in Thai art and in temples. They are associated with reusi who is usually dressed in tiger fur and dwells in, or in the proximity of caves. Shiva is often seated on tiger fur (fig.). In Thai mythology tigers are related to Saturday and the mount of Phra Sao, the god of Saturday, is a tiger. In Chinese and Indian mythology, the tiger is the seat of Zhao Gong Ming and Parvati, respectively. The tiger is also the third animal in the Chinese zodiac. Since its forehead (fig.) has a marking that resembles the Chinese character wang (王), meaning 'king', the tiger is in Chinese culture regarded as the King of the Animals (fig.) and represents royalty and fearlessness. Since tigers represents strength they are often associated with certain aphrodisiacs and although they have no scientific medical value traditional Chinese medicine promotes tiger based drugs. Also called phayak (พยัคฆ์), especially in mythology, and in Sanskrit called viagra. See also tiger claw (fig.). 回

Thai. 'Starry tiger'. Common Thai name for the Leopard. 回
Thai. 'Fire tiger'. Name for the Asian Golden Cat. 回
Thai. 'Arching tiger'. Name for a tall tree with an identifiable army camouflage coloured naked trunk. Comparable to the eucalyptus tree, it continually renews its bark from the inside by throwing off its outer skin. The bark subsequently cracks and peels off producing colourful stripes, like a tiger. Although uncommon it is most usually found in northern Thailand. Also called ton pleuay (stripped tree or naked tree). 回

1. Thai. A long white ceremonial gown as worn by a brahman priest or a candidate for the Thai Buddhist monkhood (fig.). 回

2. Thai. An academic gown. They can be of any colour, depending on the university's choice or tradition. It typically has one main colour, often indigo, black (fig.), red or white which is then embroidered with colourful borders and/or ribbons, defining the related faculty or specialty. They are worn by students on the day of their graduation when they receive their diploma and sometimes by academic staff and graduate students on special occasions. They are usually available from rental shops (fig.) around the universities. 回

Thai name for the Clouded Leopard. 回
seua mo hom (เสื้อม่อฮ่อม/เสื้อหม้อห้อม)
Thai. A blue cotton farmer's shirt, sometimes worn with a similar pair of trousers and with a pahkaomah around the waist. The blue colour of the shirt is acquired from a plant called krahm, by soaking it in water. Next this solution is mixed with chalk and left to soak for two days and nights (fig.). The blue substance obtained is subsequently blend with a liquid gained from water mixed with ashes, a procedure that gives a reaction making the blue chalky substance suitable for submerging the cotton. Next, cotton material is immersed repeatedly until it has absorbed the dye, and hung to dry in the sun (fig.). This process is repeated up to four times, until the typical dark blue colour is obtained. Its name is derived from the earthen pot (mo/moh) in which the shirt (seua) is dyed in. Native to northern Thailand it is often produced in Phrae province. Also transcribed seua moh hom. 回

Thai. 'Clean tiger'. A name for the Fishing Cat, next to seua pla. 回
Thai. 'Fish tiger'. A name for the Fishing Cat, next to seua phaew. 回
Thai. 'To follow, to descend from, or to succeed in fate, fortune or luck'. Animist ritual ceremony in northern Thailand in which a white thread called sai sin spans the interior of the bot, starting from the pricipal Buddha image. It will be connected to the heads of the monks and the people sitting underneath it on the temple floor. A shaman will conduct a rite whilst Buddhist monks are invited to preach. The ceremony believed to prolong life can be held at any time and its host will reward the shaman for his service, usually with cash. Sometimes also wooden logs are placed against a bodhi tree to symbolically support it (fig.). 回

Thai. A traditional musical instrument, somewhat comparable to a guitar. It is made from hardwood and has either four or six strings, which are most often made of steel wire, and nine raised frets. This plucked lute-like string instrument is from the northern region of Lan Na and somewhat like the krajab pih, an ancient instrument used in the classical music of central Thailand. Also transcribed sung. 回

Name given to seven deities worshipped in Japan, most of whom derive from the Eight Immortals of China. READ ON. 回
Common name for a species of freshwater fish, with the scientific designation Probarbus jullieni, and also commonly known as Jullien's Golden Carp. READ ON. 回
See nang thalung and nang yai. 回
See Sheikh Ahmad Qomi. 回
See Sheikh al-Islam. 回
The cult of Shiva (fig.), which has several different sects and which philosophy claims to encompass all facets of Hindu thought. Its followers are known as Saivites (fig.). See also Shivaism. 回
Sanskrit. 'Mighty', 'powerful' or 'the mighty one'. An epithet for Indra, used mainly in Buddhism. It can also mean 'radiant' or 'bright', and in mythology it refers to the Adityas, whereas shakradhanus means 'rainbow'. See also Thagyamin. 回
1. Sanskrit. 'Strength'. The consort of a Hindu god personifying the female energy of that god. So is Parvati e.g. the shakti of Shiva. In Hindu art, if the shakti is depicted on the side of the corresponding male deity, it is usually to his left, i.e. closest to his heart, which suggests that he holds her close to his heart. In Thai sakti (ศักติ). 回

2. Sanskrit. 'Strength'. The name of the Hindu goddess of strength. 回
Sanskrit. 'Capable, able'. The clan or tribe to which prince Siddhartha belonged who became the historical Buddha. In Pali Sakya. 回
Sanskrit. 'Sage of the Shakya clan'. A name for the historical Buddha. In Pali Sakyamuni. 回
Name for a priest from Shamanism. 回

A primitive belief in which some priests or shamans enter a trance and consequently make contact with the supernatural. 回
Thai for harpoon, a barbed, fish-hook-like missile with a rope attached, for catching fish. It is not completely legal. See also pramong. 回

1. Thai-Burmese. An ethnic group of Tai origin, that lives for the most part in Myanmar's Shan State (fig.), but also inhabits adjacent regions of Thailand and China. There are five major groups, which are further divided into numerous subgroups. Among the five major groups are the Tai Yai (fig.), who also live in West and Northwest Thailand, where they are also known as Ngiaw. 回

2. A language spoken mostly in Myanmar's Shan State, but also in Kachin State, in northern Thailand, and in Xishuangbanna Dai Autonomous Prefecture of Yunnan Province in southern China. 回
Burmese. 'Shan pants or Shan trousers'. Name for long baggy trousers, akin to the Thai kaangkaeng le (fig.), and commonly worn by men in rural Myanmar, especially as part of the traditional dress of many of the ethnic groups. The Shan baun-bi is lightweight and very spacious. It is worn wrapped around the waist and tied with a string from the back, to form a belt. Also transcribed Shan baung-bi. 回

Chinese. 'To cherish wealth', usually referred to as 'Child of Wealth'. Chinese name for Sudhana, a youth from India who was seeking Enlightenment and on his quest studied under 53 teachers, including Avalokitesvara and Maitreya. He is finally taught that wisdom only exists for the sake of putting it into practice. In the Tale of Kuan Yin and the Southern Seas, he is described as a disabled boy who was given a new, healthy and handsome body, by jumping of a cliff after Kuan Yin, leaving his disabled body in the ravine. After this, he became Kuan Yin's acolyte and is therefore at times portrayed at her side (fig.), often together with Long Nu, a later female acolyte of Kuan Yin. In another story, described in the Precious Scrolls, Shan Cai became her acolyte after she appeared in the middle of the ocean. This episode is often portrayed in art with the boy walking on the waves across the sea to join with her (fig.). In the classical Chinese novel Journey to the West, he is known as Red Boy. Also transliterated Shan Tsai. 回

Chinese. 'Mountain offspring' or 'small mountains'. Name of a Chinese art form in which miniature sceneries and landscapes are carved from small to medium-sized natural rocks and boulders (fig.), usually in its interior after it has been split open, while using and maintaining existing outlines in the natural shape of the rock. The finished work is typically put on a decorative wooden stand. See also Chinese rockery. 回
Chinese. Though the name literally translates as 'Young Forest', it in fact refers to the location of a Buddhist monastery in China's Henan province (fig.). Shao (少) refers namely to Mount Shaoshi (少室山), the 'Young Home' mountain on which the monastery is built. Lin (林) indeed means 'forest', but the full name of the monastery is in reality Shaolin Si (少林寺), with the word si (寺), meaning 'Buddhist temple' or 'court office'. The name should thus be interpreted as 'Buddhist temple in the woods of Mount Shaoshi'. The monastery initially served as a defense against bandits and contributed to the development of a martial arts form, consisting of nineteen different types (fig.), which lay at the origin of Chinese fighting sports, including the renowned Kung Fu (fig.). It is practiced by the fighting monks (fig.) of the Shaolin order in China, but has followers worldwide. Now the term Shaolin is more often than not used in reference to this martial art, though the Shaolin monastery also stands at the origin of Zen Buddhism. Monks that ordain into the order and accept to follow its nine rules are given the jieba, i.e. nine rounded marks that are burned onto the head with incense sticks (fig.), in three rows of three (fig.). The temple is also known for its famed Pagoda Forest (fig.). 回

Chinese. 'Sand understanding purity'. Name of a fallen immortal who was punished by the Jade Emperor for breaking a crystal goblet. He was exiled from heaven, where he previously was the General who Raises the Curtain, and sent to the mortal world as a hideous sand demon. On earth he dwelt in the quicksand river where he attacked innocent passers-by and received weekly punishments from heaven. In search of powerful bodyguards to protect the monk Xuanzang on his Journey to the West, he was recruited by Kuan Yin in exchange for relief from his punishment. After the pilgrimage he was rewarded and transformed into a luohan. His weapon of choice is a double-headed staff with a crescent-moon blade at one end and a spade at the other. In English he is also known as Friar Sandy. 回

Arabic. Name of a Persian expatriate trader who lived in Siam for 26 years. He was born in the Islamic centre of Tainajahar in Qom and is said to have arrived at Ayutthaya in 1602 AD, during the rule of king Naresuan the Great, of whom he received official permission to stake out two suitable sites, one for his residence, another for his religious and trading quarters. His mission to Siam was twofold: firstly, to open a trading post, secondly, to bring Islamic teachings of the Shi'ite Sect to Siam. Having settled, he embarked upon developing his Islamic mission and his trading post, and within a decade the Shi'ite Chao Sen Sect was firmly established and the trading mission prospered. While becoming somewhat prosperous on the way, he gained a reputation of being an honest and reliant merchant. It was during this period that he married a young lady by the name of Ob Chuay who bore him two sons and a daughter. The eldest son, was named Chuen, the second one died before reaching his teens, while his daughter was named Chi. He rose to favour with king Song Tham (1610-1628), who appointed him to the highest administrative positions and put him in charge of Siam's entire trade with the Middle East and Muslim India. He was appointed the first holder of the title of Chularachamontrih, a Thai version of the Muslim office of Sheikh al-Islam. His later descendants, known as the Bunnag family, continued their prominent role in Siamese politics and trade, well into the Bangkok period. Also transcribed Shaikh Ahßmad-e Qomi. 回
Arabic. 'Islamic tribal elder' or 'revered old man of Islam', sometimes translated as 'Islamic scholar'. A title and office of superior authority in the issues of Islam which is supposed to be bestowed upon followers of the Koran who acquired deep knowledge of its principles and are of age, wise in Islam and reputable among peers. In Thailand this office is called Chularachamontrih. Also transcribed Shaikh al-Islam, Sheikh ul-Islam or similar. 回
Chinese. Name for a traditional Chinese reed mouth organ, said to be one of the oldest Chinese instruments still in use today. The modern version consists of a metal mouth-piece and vertical bamboo and sometimes also metal pipes. The name sheng may also be used to refer to a small bottle gourd wind instrument with bamboo pipes (fig.), which is played by some Thai hill tribes (fig.), who often dance and swing the instrument from side to side while playing (fig.). Due to the multiple pipes (fig.), its sound is polyphonic. The latter is comparable to the lu sheng, another gourd-shaped musical instrument, but with larger bamboo pipes or reeds (fig.). 回

Chinese. Literally 'god of agriculture', a designation for the first farmer and founder of herbal medicine, as well as an early emperor and the god of husbandry. He is traditionally seen as one of the three Emperors who are credited for creating Chinese culture, together with Fu Xi and Huang Di (fig.), the Yellow Emperor. He is the author of China's earliest book on pharmacology compiled systematically. It is believed that he lived around 2700 BC. According to legend, Shen Nong was a also skilled ruler, a creative scientist and patron of the arts, commonly known as the 'divine healer'. He is attributed with inventing tea, as well as discovering the medicinal benefits of numerous other plants. His farsighted edicts required, among other things, that all drinking water be boiled as a hygienic precaution. One summer day while visiting a distant region of his realm, he and the court stopped to rest. In accordance with his ruling, the servants began to boil water for the court to drink. Dried leaves from a nearby bush fell into the boiling water, and a brown liquid was infused into the water. As a scientist, the Emperor was interested in the new liquid, drank some, and found it very refreshing. And so, according to legend, tea was discovered in 2737 BC. Regularly transcribed Shennong or Shen Nung, and in Thai also referred to as Iamtee or Iantee. His title as emperor was Yan Di, which means 'Flame Emperor', and as a one of the Si Shi, he is known as Shen Nong-shi. See also cha. 回

Mythological serpent with a thousand heads, symbol of the cosmic waters and the animal on which the Hindu god Vishnu rests, especially during the nights that separate two cosmic periods. Also known as Ananta and Vasuki. 回
Chinese for 'generation' and also a homonym with shi, which is part of the word shi liu, meaning 'pomegranate'. See also thabthim. 回
Chinese for 'stone' and part of the word shi liu, meaning 'pomegranate', one of the three fruits of abundance, together with the peach (fig.) and the fingered citron (fig.). See also thabthim. 回
See ya fai takaad. 回
Japanese. Name of an edible mushroom native to East Asia. It is found as an ingredient in many Asian dishes, especially in Thai, Japanese, Chinese, Vietnamese and Korean cuisine. On markets it is usually sold in dried form. In Japan it is considered a great delicacy and is believed to prevent premature aging, as well as to be a remedy for poor blood circulation, respiratory diseases, liver problems, fatigue and weakness. The mushrooms, called 'shii' (椎) in Japanese, are traditionally cultivated on dead tree logs. In English the shiitake is known as Chinese black mushroom or black forest mushroom, in Thai as hed hom and in Chinese as xianggu (香菇). Both in Thai and Chinese the names literally mean 'fragrant mushroom'. Other appellations are the Chinese word songrong (松茸) and the Japanese matsutake (松茸). Although pronounced differently these words are written with the same Chinese or Kanji characters. The first character in Chinese is pronounced song (松) and also means pine. 回

Common name for a small bird of prey, that grows to about 36 centimeters tall, and which was given the scientific designation Accipiter badius. READ ON. 回
Chinese for 'pomegranate', one of the three fruits of abundance, together with the peach and the fingered citron. See also shi and thabthim. 回
Burmese equivalent of the Thai word Phra, i.e. a word used as a prefix to the name or title of a monk or noble, as in Shin U Pagok and Shin Thiwali, though it can also mean 'to live' or 'to be alive', as well as 'to be sharp' with regards to sight or light. 回
Burmese. One of 37 nats that belong to the official pantheon of spirits worshipped in Myanmar. 回
Burmese. Name of a spirit that belong to the official pantheon of 37 nats worshipped in Myanmar. 回
Burmese. One of 37 nats that belong to the official pantheon of spirits worshipped in Myanmar. 回
Burmese. Name of a spirit that belong to the official pantheon of 37 nats worshipped in Myanmar. 回
Burmese ordination ceremony in which a boy under the age of 20 becomes a samanera, i.e. a novice in Theravada Buddhism. The ceremony is very similar to the Poi Sang Long festival as celebrated in Thailand's Mae Hong Son province (fig.). The boys are dressed in princely attire, as a symbolic reference to prince Siddhartha, who abandoned his throne in exchange for a secular life of self-detachment. The ceremony is regarded as a tradition of coming of age and the merit gained by the act goes in part to the boy's parents, especially the mother, who for the occasion will be referred to as Medaw. Hence, those who are not blessed with a male child will seek for an orphan or a boy from a poor family in order to also receive merit. A Buddhist monk will shave the boy's head and after the ceremony is over, the boy will be ordained and spend some time −however short it may be− in the temple, to study the dhamma (fig.). In contrast to Thai novices, who shave their hair and eyebrows once a month, on wan kohn, Burmese novices shave their heads once a week and do not not shave off their eyebrows (fig.). Also transcribed shinbyu. 回

Burmese term for a Buddhist novice, otherwise known as samanera (fig.), a word that is closer to the Mon and Shan terms for it. Whereas the word shin is a term similar to the Thai word Phra, which is equally used as a prefix to the name or title of a monk or noble, as in Shin U Pagok and Shin Thiwali, the word thamanei is the exact term for a novice of the Buddhist Order. Since the latter refers to someone who studies the dhamma, it certainly is reminiscent of the Thai word tam, which is pronounced thamma when referring to the Pali equivalent, and thus suggests perhaps a similar etymological root. Also spelled shin thamane. See also Medaw. 回

Burmese. Name of a deified Buddhist monk in Myanmar, who in Thailand in known as Phra Siwalih. However, in Thailand he is portrayed holding a klot, i.e. an ecclesiastical umbrella (fig.), and in Myanmar he is usually portrayed with a Burmese-style pad bai lahn or pad yot, i.e. a fan used by monks (fig.). Due to his extraordinary luck factor, that brings peace in the form of happiness and good luck to anyone who worships him, his statue, amulet or relic, he is in Myanmar particularly prayed to by people taking exams, and is believed to have been born from an ear. See also shin. 回

Shin U Pagok (ရှင်ဥပဂုတ္တ, ရှင်ဥပဂုတ်)
Burmese. Name of a deity worshipped especially in Myanmar, who is believed to guard and have authority over water. READ ON. 回
Singaporean term for 'great', 'fantastic' or 'delicious'. 回
Sanskrit. 'Auspicious' and 'fortunate'. One of the three prominent gods of the Hindu Trimurti, the pantheon that also includes Brahma and Vishnu (fig.). He represents both destruction and regenerating energy. In Thai art, he is generally depicted with a blue complexion (fig.), his hair plaited in a jata, a thick tuft, and wearing a brahman cord (fig.) which is sometimes depicted as a snake. He has an urna on his forehead (fig.) and a crescent (fig.) in his hair, or alternatively on his crown. His many attributes include a trisula or trident and an axe, and he is often seated on tiger fur (fig.). The Bengal tiger's skin was originally an emblem of Shiva, as he killed the 'tiger of desire' and used its skin as his meditation seat. His consort is Devi, who is also known as Parvati and Uma. He is the lokapala of the Northeast and his mount is the buffalo or bull (fig.) Nondi, also called Nandi (fig.). He is often found depicted in a cosmic dance and as 'lord of dance', a representation of cosmic truth and energy known as Nataraja (fig.). Shiva is originally a pre-Vedic deity of India, going back to the period of the Indus Valley Civilization. Later, in the Vedic period, Rudra, the Vedic god of storm, merged in him and made him the destroyer in the Hindu trinity. He is also identified by the names Isana, Ishana (fig.), Prithivi and Rudra, and in Thai he is known as Siva, Siwa, Thaksin, and Idsuan, and is usually referred to with the prefix Phra, e.g. Phra Idsuan (fig.). In khon performances, he is represented with a khon mask in the form of a human head with a white complexion and wearing a golden chadah-like crown, with a peak which is somewhat inflated in the middle. When portrayed in combination with Vishnu, he is known as Harihara (fig.), and in combination with Uma as Ardhanari (fig.). His symbol is the tri-pundra, a sectarian mark consisting of three horizontal bars, often with a red dot in the centre, that he and the followers of his cult –known as Saivites (fig.)– may wear, usually applied on the forehead, using ashes. Sometimes spelled Shiwa. See also Shaivism, Shivratri, Shivalinga and pladkik. 回

First and most important form of veneration in Angkor practiced in Cambodia from the 5th century AD and in which the Hindu god Shiva is worshipped by the name Bhadeshvara. See also Shaivism. 回
Sanskrit. Annual Indian religious festival held on the moonless fourteenth night of the new moon in the Hindu month of Phalgun, i.e. in February or March, in which the marriage between Shiva and his shakti is celebrated. His consort, who personifies the female energy of this Hindu god, is then worshipped in all her different aspects and avatars, including both benevolent appearances, such as Devi, Parvati and Uma, and her terrible or malicious forms, such as Durga and Kali. The deeper significance of this festival is the union between the male and female energy, as is also symbolized in the linga and yoni, which in combination represent creation (fig.). Some devotees believe that it was on the auspicious night of Shivratri that Shiva manifested himself in the form of a linga, whilst it is also generally assumed that it was on this night that Shiva performed the tandava, the cosmic dance of the primal creation, preservation and destruction. Devotees observe strict fast in honour of Shiva, though many go on a diet of fruits and milk, while some do not consume even a drop of water, as it is believed that sincere worship on this auspicious day absolves a person of sins and liberates one from the cycle of reincarnation. Worshippers take an early ritual bath, preferably in river Ganges (fig.) and –if possible– at Varanasi, the Indian city which is claimed to be the permanent abode of the god Shiva. Devotees also ritually immerse a Shivalinga with milk, honey or water, at a nearby Shiva temple. During the celebrations, temples are decorated with lights and parades (fig.) are held featuring the main protagonists of Shaivism. The name of the festival is a compound of the name Shiva and ratri (रात्रि), which signifies 'night'. The name of this event can thus be translated as 'the night of Shiva'. Sometimes transliterated Shivaratri and also known as Maha Shivratri, i.e. 'the Great night of Shiva'. 回

Common name for a 20 centimeter tall passerine bird, with the scientific designation Pericrocotus brevirostris. Adult males have a black head and black upperparts, and scarlet underparts. In addition, the tail, rump and long wings also have patches of red, though the scarlet colour varies across populations, and may be any shade of red or even orange. Females are grey above, with a yellow face and underparts. Otherwise they are similar, but the scarlet colour is replaced by yellow. It is very similar to the Scarlet Minivet, but with a different wing pattern and a shorter bill, and the female is a slightly darker grey above. See also Long-tailed Minivet (fig.). 回

Chinese. Name of the Chinese god of longevity. In iconography, he is always depicted with a semi-bald, oversized, abnormally high forehead and carries a staff with a dragonhead and a Peach of Immortality in his hands. He may sometimes also carry a nahm tao bottle gourd. He is one of the Three Star Gods, together with Fu and Lu, a trio which in Thai is known as Hok Lok Siw (fig.). As the symbol of good health and long life he is usually used for the sixth cycle birthday celebration or as birthday wish. The flowerhorn, a kind of fish with a hump on its forehead (fig.), which is often called by the Chinese name luohan, refers to him. 回

Sanskrit. Goddess of fortune and wealth, and consort of the Hindu god Vishnu. Also known as Lakshmi. See also Sri. 回
Common name of an evergreen shrub, with the botanical name Justicia brandegeeana. It grows about one metre tall and bears white flowers that emerge from red, overlapping bracts, of which the shape is reminiscent of that of a Mantis Shrimp (fig.), hence the shrub's common name. It belongs to the family Acanthaceae, and is related to the Golden Shrimp Plant (fig.). In Thai, it is known by the name Saai Rung (สายรุ้ง), i.e. 'Rainbow'. 回

The lowest of the four social classes from the Hindu caste system (varna) in India originally consisting of prisoners of war and conquered people, but later unskilled labourers and fallen members from the three higher castes. Members of this cast are considered to have no second birth. Besides the lowest caste, there are also the dalit or the 'untouchables'. These are pariah or social outcasts, that are considered less than human and as such are not part of any of the social classes, not even the lowest. The latter group formerly included slaves. Also Sudra. 回
Chinese. 'Wet grass' or 'water grass'. Name of a Chinese warrior-deity, who serves as the main protector-god of horses. He is usually depicted seated on a horse and with six arms. He has multiple faces, with a vertical third eye on his main face. He holds a variety of attributes, including a sword and a kuandao (fig.). He is associated with both the Mazu (fig.) and the Mawang (fig.), a group of Chinese deities worshipped since antiquity as the co-protectors of horses, especially during the Ming Dynasty. Horses are believed to bring power and prosperity, as in the past they were the possession of powerful rulers and generals. Hence, today, statuettes of horses are often found in the offices of many a Chinese manager or businessman. 回

Chinese. 'Ears [that hear the sounds] taken with the wind', sometimes also translated as 'Favourable Wind Ears' or 'Fair Wind Ears'. Name of a mythological figure from Taoism. He and his brother (fig.) are said to have been the ruthless generals Kao Ming and Kao Chuch, treacherous brothers in the Shang Dynasty, who having died in a battle on Peach Blossom Mountain, remained there and haunted the place. One day, the Mother-Ancestor Tian Hou (Matsu/Mazu) passed through there and the brothers began to compete for her affection. To get rid of them Tian Hou challenged them to a fight: if any of them won, she would marry him but if she won, they both would have to serve her forever. Tian Hou won and the brothers serve her still, looking and listening for those who need her help. In art and temples Shun Feng Er is always depicted having his hand to his ear and usually with a brown or red complexion, and sometimes with two horns. He is found in mainly Tian Hou temples, on the left side of the offering tables. He is habitually depicted together with his brother Chien Li Yen (Chin Lei Ngan) who will then be to the right of the altar and is easily recognized by the hand shielding his eyes from the sun. He is usually portrayed having a green complexion, and sometimes with one horn. However, their position to the altar and colours may be reversed, thus it is their unique positions of the hands that are the conclusive keys for recognition. Also called Shun Fung Yi. 回

Burmese. Large bell-shaped pagoda or chedi in Yangon (Burma), covered with 60 tons of gold leaf and adorned with precious gemstones. Its construction is said to have started in the 5th century AD to house eight hairs of the Buddha. Throughout the centuries it was enlarged, restored and rebuilt. 回

Shwe Hpyin Gyi (ရွှေဖျင်းကြီး)
Burmese. One of 37 nats worshipped in Myanmar. He is the elder brother of Shwe Hpyin Nge and a son of Popa Medaw (fig.) with Byatta. Together, the brothers are also referred to as Taungbyone Min Nyinaung, i.e. 'Brother Lords' (fig.). 回
Burmese. One of 37 nats worshipped in Myanmar. He is the younger brother of Shwe Hpyin Gyi and a son of Popa Medaw (fig.) with Byatta. Together, the brothers are also known as Taungbyone Min Nyinaung, i.e. 'Brother Lords' (fig.). 回
Burmese. 'Gold Face'. Nickname for Min Mahagiri, the Burmese nat who is also known by his birth name Maung Tint De, and who is depicted with a golden complexion (fig.), as well as of his sister Hnamadawgyi. Also transcribed Shwe Myet-hna. 回
Burmese. 'Golden Side'. Name of one of the 37 nats that belong to the official pantheon of spirits worshipped in Myanmar, and whom is also known as Naga Medaw (fig.). Her name is also transcribed Shwe Nabei and Shwe Nanbei. 回

Burmese. Name of a spirit that belongs to the official pantheon of 37 nats worshipped in Myanmar. 回
Burmese. One of 37 nats that belong to the official pantheon of spirits worshipped in Myanmar. 回
Sanskrit. 'Black' or 'dark'. Another name for Mahakali, a terrible form of Devi. It is also the word of which the name Sayaam or Siam, the old name of Thailand, derives. 回
1. The ancient name for Thailand, until 1939. The term is derived from the Sanskrit word shyama meaning 'dark' or 'black', a name given by the Khmer on the grounds of the dark complexion of the Thai. Also transcribed Sayaam. 回
2. Name of an area in Bangkok's Pathumwan District, that has a large number of shopping malls, one of them housing Southeast Asia's biggest aquarium known as Siam Ocean World (fig.). It is located at the intersection of the North and South Lines of the Bangkok Mass Transit System, opposite of Siam Square, a market-like area with many smaller shops. Also transcribed Sayaam. 回

Thai-English. Common name for a kind of gibbon, with the scientific name Symphalangus syndactylus, and sometimes listed with the other gibbons, as Hylobates syndactylus. It is the largest of the lesser apes and can be twice the size of other gibbons (fig.). It has extremely long arms, that are longer than its legs. Remarkably, it has two fingers on each hand that are fused together, hence the name syndactylus. It has a black fur, with long, dense, shaggy hair, which on the head has a neat centre parting, and an inflatable gular pouch, which inflates when the animal is calling, producing a call that may carry for several kilometers when conditions are right (fig.). Whereas unmated individuals live solitary, family groups consist of two adults and up to three small and large juveniles. The female gives birth to a single young (fig.) every two or three years. There are two subspecies recognized of Siamang, i.e. the nominate race, commonly referred to as the Sumatran Siamang (Symphalangus syndactylus syndactylus), and the Malaysian Siamang (Symphalangus syndactylus continentis). It is found in the rainforests of Thailand, Malaysia, and Sumatra. In Thai, it is also commonly known as chanie dam yai (ชะนีดำใหญ่), i.e. 'dark black gibbon'. 回

See Alexandrine Parakeet. 回
Common name for a medium-sized deer, indigenous to Southeast Asia and with the scientific name Cervus eldi siamensis, one of three recognized subspecies of Cervus eldii, the others being Cervus eldi eldi (Manipur Brow-antlered Deer) and Cervus eldi thamin (Burmese Brow-antlered Deer). The Siamese Brow-antlered Deer is most commonly found China, Laos, Vietnam, Cambodia and Thailand, more specifically in Thailand's Isaan, near the border with Cambodia. In summer it has short, orange-red to golden-brown hair, with pale patches on the back (fig.), similar to the summer coat of Burmese Brow-antlered Deer (fig.), but without a dark dorsal line (fig.). Annually in winter, its fur turns dark brown and stags will grow antlers. Its legs are long and thin, and males have strongly curved antlers, of which the main beams grow more backwards than upwards and with a long brow tine, which gave this species its name. Generically the three subspecies are also known as Eld's Deer and in Thai as la-ong and lamang, as well as la-ong lamang, and the specific name for the Siamese Brow-antlered Deer is la-ong phan thai (ละองพันธุ์ไทย) or lamang phan thai (ละมั่งพันธุ์ไทย). 回
A typical Thai breed of cat and one of the first Oriental species to be distinctly recognized. They have blue, almond shaped eyes and a rather triangular head. Its fur is of a creamy base colour with dark points on its snout, ears, lower legs and paws, genitals and tail. Original Siamese Cats (fig.) are squint-eyed and have a kink at the end of their tail, features that are regarded as flaws in the West and thus have largely been eliminated through selective breeding, but in Thailand they are still common, especially in stray cats whereas housecats are usually bobtailed. According to legend, one day, when all the men of Siam had left their homes to defend the kingdom, just two temple cats, a male named Tien and a female named Chula, had remained in order to guard a golden goblet belonging to the Buddha and kept in a sacred temple. Tien got bored with the task and after mating, he left Chula in order to search for someone else to come and look after the goblet. Chula was so dedicated to her duty to guard the goblet alone, that she didn't risk to take her eyes off of it, not even once, so well she guarded the goblet that she turned cross-eyed. And just in case she would fall asleep, she wrapped her tail around the goblet's stem so tight, that she developed a kink in it. Later, all her kittens were born with these features, and this continued to happen to later generations, even up to this present day. Another story tells that there once was a princess who used her cat's tail to keep her rings while she was bathing, with the kink in the tail preventing the rings from falling off and going lost. In the West the Siamese cat is named after the former name of Thailand, but in Thailand it is called wichian maat, meaning 'golden thunderbolt'. 回
A medium-sized species of pheasant, with the binomial name Lophura diardi and hence also known as Diard's Fireback. Males are around 82 centimeters long, with a bluish grey plumage and a long curved blackish tail. It has a typifying golden-yellow patch on its back, which gave rise to its name, and the plumage of its rump is scaled with dark red and indigo-black. The colour of its legs and feet are pinkish red to crimson. Its head has ornamental black crest feathers an an extensive red facial skin with wattles, whilst the eyes are reddish brown. With a length of around 60 centimeters, females are somewhat smaller and have a brown plumage with scaled black and white wing and tail feathers (fig.). The Siamese Fireback is distributed to the lowland and evergreen forests of non-peninsular and mainland Southeast Asia, and belongs to the family Phasianidae, which includes eight species of pheasants living in Thailand. The Siamese Fireback is Thailand's National Bird and in Thai it is called kai fah phaya loh. See also kai fah. 回

Siamese Narrow-headed Soft-shell Turtle
A venomous and potentially lethal species of snake, with the scientific name Daboia russelii siamensis. It is found exclusively in parts of Southeast Asia, southern China and Taiwan. It has a pinkish-brown body with a vertebral row of large, dark brown, often mango-shaped spots, that are delineated with a black inner edge and a somewhat thinner white outer edge. On both flanks there is a row of similar, yet somewhat smaller mango-shaped spots with less white, placed zigzag against those of the vertebral row above, and all over the body are smaller dark brown spots scattered between the large ones. Occasionally, there may be blotches with a different shape, seemingly as if two spots are merged together, forming a larger blotch and outline, usually with an indistinguishable shape. The tail is similar with all of the above spots gradually reducing in size towards the end, and similar blotches appear on the crown of its head. When threatened, this terrestrial and nocturnal species will make a very loud, continuous hissing sound, that can be quite alarming. Sometimes called Eastern Russell's Viper and in Thai known as ngu maew sao. 回

Name for monozygotic twins who are joined at some part of the body. The term was introduced in the West by Robert Hunter, a Brit who internationally spread word of In and Chan, a Siamese twin born on 11 May 1811, during the reign of king Rama II. The twin was the fifth child of Tai-ai, a Chinese immigrant and his mixed-blood wife Nok, who lived on a raft house in Mae Khlong, nowadays Samut Songkhram. The newborn infants were conjoined twins, attached to each other at the chest by shared tissue. Hazardous plans to separate them where eventually abandoned and the boys lived on to become real celebrities. Even though living reasonable normal lives public interest in the twins grew and after an audience with king Rama III their recognition was established, allowing them to make a good living from their initial misfortune. They worked in circuses and freak shows, went to live abroad and even got married. They died in 1874. In June 2001 a pair of conjoined crocodiles, that hatched at the Samut Prakan Crocodile Farm and Zoo, were named after the famous Siamese twins. In Thai called faed sayaam. 回

Thai. 'Siam Created'. Name of a venue in Bangkok's Huay Khwang Distric, that offers a spectacular show of Thailand's arts and cultural heritage. Performances takes place in a huge theatre, which claims to have one of the largest podia in the world. There are also outdoor attractions, such as music and dance performances, elephant feeding, as well as elephant rides, and there are traditional villages built in the styles of the four regions of Thailand (fig.), where some traditional handicrafts (fig.) and cooking of Thai snacks (fig.) are demonstrated, and which can be enjoyed prior to or after the show. Due to its success in the capital, a second theatre was opened in Phuket. 回

Thai name for Chinese fortune sticks. In Mandarin known as qiuqian. 回
Society which focuses on preserving traditional Thai culture. It was founded on 26 February 1904 in the Oriental Hotel in Bangkok, during the reign of King Rama V and by Thai and foreign intellectuals. Today, the society has an excellent reference library and an ethnological museum exhibiting Thai Folk Art, and also publishes a journal. In Thai, the Siam Society is called Sayaam Samaakom (สยามสมาคม) and is located in Soi Asoke, off Sukhumvit Road. Its emblem (fig.), the head of an elephant, was designed in 1926. To mark its 100th anniversary in 2004, a commemorative postage stamp (fig.) was issued, with the emblem and an illustration of Ban Khamthiang (บ้านคำเที่ยง), in English known as Khamthiang Memorial House (fig.), a more than 160-year old traditional teakwood house from northern Thailand (fig.), that the Siam Society runs as a museum under royal patronage. 回

Siam Thewathiraat (สยามเทวาธิราช)
Thai. The guardian spirit of the nation. Also transcribed Sayaam Thewathiraat. 回

Name for a tropical plant with the scientific Latin name Curcuma alismatifolia and native to northern Thailand and Cambodia. It belongs to the family of Zingiberaceae (ginger species) and its flower somewhat resembles that of red ginger (fig.). It is the provincial flower of Chaiyaphum, where they are found abundantly in the wild, especially in the 90 km▓ Pah Hin Ngahm National Park which is home to one of the most well-known fields of wild Siam Tulips. Although not related to the tulip it may also be referred to as Summer Tulip. Its flowers may be white, pink or purple (fig.). In Thai it has many names, including pathumah and krajiaw (fig.). 回

An ancient kingdom in present-day Laos, formerly called Phuan and situated near the 'field of jars'. Its population is considered to be the ancestors of the Siamese from Central Thailand. In 1830 it was briefly occupied by the Vietnamese but recaptured in 1834 by Luang Phrabang in collaboration with Siam. Also Xiengkhouang. 回
Thai name for Sita, the consort of Phra Ram in the Ramakien, the Thai version of the Ramayana. She is the daughter of King Totsakan and Nang Montho, but after her birth it was predicted by Phiphek, the younger brother of Totsakan, that the princess would bring ruin to the demon family. Hence, Sida was placed in a bowl and set afloat on a river. It was later found by the hermit Chanok Jakrawat, who adopted the girl. Later, the demon King Totsakan fell in love with Sida, not knowing it was his own daughter, and abducted her. However, Sida was already married to Phra Ram and her abduction sets in motion a struggle between the monkey army of Phra Ram and Totsakan's army of demons. Also transcribed Seeda or Sidah. 回
Sanskrit. 'One who is accomplished'. Term in Jainism for a liberated soul, which has destroyed all of its karma. It refers to perfected masters, who have transcended their ego, usually through meditation. 回
Sanskrit. 'Goal accomplished', 'every wish fulfilled' and 'he who succeeds and prospers'. The name of the prince who later became the historical Buddha. In Pali Siddhatta. 回
Pali for Siddhartha. 回
sidphratathahkot (ศิษย์พระตถาคต)
Sanskrit-Thai. A disciple or follower of a great man, namely the Buddha. 回
Thai. The classifier used for teeth, ribs, bars, pales, prongs, tines and spokes, e.g. fan song sih (ฟันสองซี่), i.e. 'two teeth'. 回
Pali-Thai term for 'lion'. 回
Another name for Singh Khak Khah. Also transcribed Seeha Khak Khah. 回
Another name for Kraison Mangkon. Also transcribed Seehara Mangkon. 回
Thai term for a male elephant that grows short tusks. See also phlaay and phang. 回
Thai. 'Four Ears, Five Eyes'. Name of a legend from Chiang Rai, about a bear-like creature with a blackish fur, four ears and five eyes, and which was earlier referred to as Maeng Sih Hoo Hah Tah, literally 'Four-eared, Five-eyed Invertebrate'. According to the legend, the creature was thought to be the incarnation of the father of a boy called Ai Thuk Khata (อ้ายทุกคตะ), who was a buffalo- and cowherd, whom had caught the creature in his snare trap, that he had put up near a cave in the forest with as bait the head of his deceased father, after it had fallen off the decomposed body, and as he was instructed to do by his father when the latter was still alive. The boy took the creature home in secret and tried to look after it the best he could, though Sih Hoo Hah Tah refused to eat and busy with his duty of herding the cows and buffaloes, the boy could not give the creature his full attention. Then, one day in winter, the boy brought some firewood home in order to make charcoal for his stove. When Ai Thuk Khata showed a piece of hot burning charcoal to the creature, Sih Hoo Hah Tah grabbed it from him and to the boy's astonishment hungrily ate it whilst it was still red-hot. The boy then started feeding all the charcoal to the creature. When the next day, Sih Hoo Hah Tah defecated, even more surprisingly, the creature produced gold in great quantities. Hence, the boy started feeding the creature more red-hot charcoal, upon which the creature defecated more gold, which the boy buried in the garden around his home. Then came the news that Simah (สีมา) the royal daughter of a deity was looking to get married. However, the sole condition for her to marry was that her hand would go to the person who could produce a drain between his house and the palace that could capture rain of gold. Though seemingly impossible for most, Ai Thuk Khata hired a worker to built him a channel between his house and the palace, and filled it with gold from the creature, which started to flow towards the palace. On investigating its origin, the king arrived at the house of Ai Thuk Khata, who consequently was allowed to marry with the princess. After the marriage, the king asked about the source of the gold and Ai Thuk Khata told him his story. They then dug up the gold in the garden and made it part of the national treasury, but when also the creature was invited to the palace, it out of fear fled several times and was subsequently put in a cage, from which it once again escaped when the king opened it in order to palpate the creature. The king followed Sih Hoo Hah Tah as it fled into the cave nearby where it was first caught in the snare trap, but in doing so the cave closed its entrance behind him and the king got trapped, his position unknown to anyone outside. The king then found a small hole through which he could see his mistresses and expecting to die inside, he asked them to open their phah thung, so he could enjoy their naked beauty once more before he would certainly die. When they obeyed, laughter was heard coming from the cave, but the sound of it made the cave unbolt again and the king was able to escape. After this, the creature was never spoken of again and when the king died, Ai Thuk Khata as his son-in-law became his successor. The king's ashes were enshrined in Wat Doi Khao Kwai Kwae (วัดดอยเขาควายแก้ว) in Chiang Rai, a temple said to have been specially built fore this event. The story of Sih Hoo Hah Tah is thus related to Buddhism and according to a senior monk and abbot of the regional temple, its four ears are said to symbolize the Four Phrommawihaan, i.e. the 'Four Sublime States of Mind', whereas its five eyes represent the Seen Hah or Sihnha, i.e. the 'Five Conducts' or five commandments of the Buddha, which form the religious precepts for Buddhist laymen. 回
Thai. 'Section' or 'portion'. An old Thai monetary unit with a value of eight siyaw or two feuang. There are four sihk in one saleung. It is still found on old coins and stamps. Also transcribed seek or siek. 回

Thai. The five commandments of the Buddha, the Buddhist religious precepts for laymen. Monks and members of the Sangha are supposed to submit to the 227 rules of conduct concerning monastic discipline written down in the Vinaya Pitaka or Vinay Pidok. However, young novices (naen) need to uphold only 10 precepts. In both Sanskrit and Pali the Five Precepts for Buddhist laymen are called Panjasila or Pancha Sila (पञ्चशील), i.e. 'Five Conducts' or 'Five Virtues'. See also jam sihn and Buddhist precepts. 回

Thai. 'Colour per day'. System in Thailand in which each day of the week corresponds with a certain colour, that is, red for Sunday, yellow for Monday, pink for Tuesday, green for Wednesday, orange for Thursday, light blue for Friday, and purple for Saturday, respectively. This colour system is also used to determine the field of the flag with the escutcheon of members of the royal family (see Vexillology & Heraldry
). Compare with thep prajam wan, Phra prajam wan
, sat prajam wan and dao prajam wan. See also rung and wan tua. There are sometimes small deviations in the use of these colours, especially with regards to the exact hue or shades, i.e. pale or dark. For example, whereas
Wednesday is officially associated with green,
sometimes
mild tones of blue, gray and brown are
suggested alternatives ,
akin to their use for Wednesday
in Hinduism,
and
black, which is the colour of Saturday in Hinduism,
may
occasionally
be used instead of purple. 回

Sikh (सिख, ਸਿੱਖ)

Hindi-Punjabi. Indian religion founded by the guru Nanak Dev (1469-1539) in the late 15th century which emphasizes submission to God and service to people. Sikh means 'disciple' or 'seeker of the truth' and followers believe in one God, share the Hindu beliefs in karma and reincarnation, but reject the rituals. Sikhs believe that greediness, desire, pride, anger and any attachment to passing values of earthly existence are the source of all evil. This self-centreedness is called haumai and separates humans from God. It is the cause of ones karma that leads to the endless cycle of birth, death and rebirth, a sequence that can only be broken by Enlightenment and spiritual unity with the one God. Its teachings emphasizes equality of all people regardless of caste or gender. To demonstrate their acceptance of this equality all men are instructed to change their last name into Singh (lion), whilst all women adapt the name Kaur (princess). The Sikh invite people of all castes to come and meditate together, irrespective of their social background. They also started a tradition of free distribution of food to poor and rich alike, to create a sense of equality known as pangat. In Sikh history there have been ten great gurus. Its founder Nanak Dev appointed his successor who was followed by nine others. The last one however, the guru Gobind Singh (1666-1708), pronounced the end of this line of succession and ordained the Sikh holy scripture, the Adi-Granth to be the ultimate spiritual authority, rather than any person or new successor. The holiest of Sikh shrines is the Golden Temple (fig.) in Amritsar, which

foundations were laid during the period of the fifth guru, Arjan Dev (1581-1606

).

The Sikh escutcheon consists of a double-edged sword known as khanda, in a circle called chakkar (a word related to chakra) and flanked by two scimitars. This coat of arms is also referred to as khanda, after the sword, and is also displayed in black on a saffron field (fig.) on the Sikh flag, known as Nishan Sahib, meaning 'Symbol of the Guru's Honour'. It is customarily flown on a flagpole (fig.), which is wrapped in fabric (fig.). Male Sikh believers wear a turban (fig.), a bangle, a dagger, and short-like underpants. Officially, they are not allowed to cut their hair and adults do not shave nor trim their beards, but instead keep it up by a net. There are an estimated 22 million Sikh believers worldwide and Thailand has Sikh temples in most large cities, as many of the numerous Indian immigrants are Sikh believers. Also Sikhism. 回

Sanskrit. 'Mountain peak', 'pinnacle' or 'summit'. Architectural term used to refer to the rising tower of North Indian Hindu temples, usually erected over the sanctuary where the presiding deity is enshrined is the most prominent and visible part of a Hindu temple of North Indian style. Its South Indian equivalent is the vimana. Also transcribed shikhara. 回
Thai. 'Red stone'. A Thai name sometimes used for laterite, though officially it is called sila laeng. See also din daeng. 回
Thai. A stone with a carved inscription. See also stele. 回
See Xi Ling Shi. 回
Soft fabric of high quality made from the spinnings of Mulberry Silkworms, i.e. the larvae (fig.) of the Domesticated Silkmoth (Bombyx mori - fig.), used in sericulture. Silk fibers have a triangular prism-like structure which allows cloth made from it to refract incoming light at different angles, giving it a shimmering appearance. Silk was first developed in ancient China, possibly around 2700 BC and began to reach the West in the 4th century BC by merchants who would exchange it for other precious goods. Imperial China anxiously tried to keep a monopoly on silk production by imposing an imperial ban and condemning to death anyone attempting to export silkworms or their eggs, but with the advent of the Silk Road were eventually unable to prevent the spread of its techniques. Western cultivation began in 552 AD, when two Byzantium monks sent by the emperor Justinian smuggled silkworms and mulberry leaves out of China, hidden in bamboo rods. Thai silk gained worldwide recognition when Jim Thompson, an American designer and textile trader, whose reputation earned him the epithet King of Silk, introduced hand-woven Thai silk, called Mai Thai, to the world. According to an ancient legend silk was discovered when a silkworm's cocoon fell into the tea cup of Leizu, a young Chinese empress, wife of the Yellow Emperor, Huang. Trying to extract it from her drink she began to unroll the thread from the cocoon, resulting in the discovery of the silk thread and the start of sericulture. She was a daughter of the Xi Ling Shi, the 'Western mountain clan' and is said to also have invented the silk reel and silk loom (fig.). She later became known as Can Shen, the Chinese 'goddess of the silkworm'. Etymologically, the English word silk derives from the Chinese word si (丝 or 纟), whereas the Thai word mai seems to be related to Chinese word mi (糸), which stands for 'fine silk'. If woven in the traditional Thai manner by hand, it is in Thai called Mai Thai. See also silk farming. 回

Epithet for the Cochlospermum religiosum, an ornamental deciduous tree, that grows up to 15 meters tall and blooms from bare branches. In India and Burma it is used as a source of industrial gum, but originally it had sacred uses. In Buddhist mythology Silk Cotton Trees are believed to be the dwelling place of the garudas. In Thai, named ton supani kah, ton chim phalih or ton ngiw (Red Cotton Tree), depending on the variety. Also commonly known as Buttercup Tree. 回

The silk production is a process that starts with a silk moth laying its eggs. When these hatch, the tiny caterpillars are fed on cut-up mulberry leaves (fig.). In about three weeks after hatching they start to spin their silky cases, called rang mai dip in Thai, in one continuous thread, by producing silk in two salivary glands in their head, a process that lasts around 3 days to a week, depending on the silkworm's strain and climate conditions. In sericulture the pupae are usually placed in a krajo, a traditional breeding basket arranged in concentric circles (fig.), or in a brush-like arrangement of sticks on a string, which in China is known as cao long (草龙), literally a 'straw dragon' (fig.). The silkworm produces the silk as a liquid secretion known as fibroin which is cemented together with a viscous gum-like substance called sericin. These substances harden when coming in contact with the air. There are two kinds of cocoons, depending on the silkworm's gender, i.e. white (to light green) and yellow cocoons (fig.). White cocoons are made by the male silkworm, have a long and smooth thread and are especially used to make crisp, smooth woven silk fabrics, like taffeta, whereas yellow cocoons are produced by the females and have a shorter thread which is rather rough. As soon as the cocoons are completed the chrysalises are killed by heat, in Thailand usually by exposing them to the sun for a couple of days, but elsewhere, in places with less sun and lower temperatures, they are either killed in an oven or by boiling them whilst simultaneously unwinding the cocoons. Anyhow, it should be done before the pupa transforms into a moth, as the moth will secrete a fluid that dissolves the silk, enabling it to emerge but thus damaging the cocoon. Some pupae are allowed to undergo the metamorphosis into moths which are used for further breeding. Each cocoon contains about 900 meters of raw silk thread. But, 48 single filaments of raw silk need to be combined to form yarn strong enough for weaving and not all raw silk is of suitable quality. That is to say, each cocoon has three layers which vary in quality and character: the first layer is known as the outer floss and makes up about 10% of the cocoon's weight, and although it is formed of a continuous filament, it is more textured and not always suitable to be reeled; the next part or middle compact layers of the cocoon, also known as the shell, has a continuous filament which is smoother than that of the outer part and is easily reeled; the next part is the innermost layer of the cocoon, next to the chrysalis and known as the pelade or inner pelade, a thin membrane-like layer which cannot be reeled. As a result, up to 5,500 cocoons may be required to produce just one kilogram of same quality silk. Therefore, a selection takes place, eliminating damaged or imperfect cocoons (fig.), such as those with holes, spoiled ones, etc. Raw silk is obtained by boiling the cocoons in hot water (fig.). This removes the viscous gum-like sericin, thus releasing the silk filaments. After brushing the cocoons, to find the outside ends of the filament, the threads are pulled over a puang sao (fig.), onto a nai (fig.), ready for dyeing and looming. Once the cocoons are completely unwound, inner pelades and carcasses of dead silk pupae (fig.), called dakdae or (tua) mai in Thai, are the leftovers. These pupae are edible and considered a delicacy by some. At present, China and Japan are the two main producers of silk, together annually manufacturing more than half of the world's production. 回
Name given to an extensive, ancient network of interconnecting land and maritime trade routes, that existed for almost three millennia and ran for about 6,500 kilometers, from the Far East, over and along South and Western Asia, through to the Mediterranean region. It gradually developed from around the 2nd Century BC and was named after silk, then the most lucrative and sought after commodity, which was exported from China under an exclusive monopoly, in addition to other luxury goods, such as spices, tea, and porcelain. Besides this, the Roman Empire exported their luxury household goods, such as gold, silver, jewelry, glassware, wine, and carpets in eastern direction, while India, which lay at the Silk Road's junction, traded –often first hand– with all parties involved of both sides, self exporting ivory, precious stones, pepper, and textiles, in both directions. The starting point of the overland northern trade route was the then Chinese capital city of Chang'an, i.e. present-day Xi'an (fig.). See also Zhang Qian. 回
Thai. Literally 'to rub the wind', a term used for a 'windmill'. The word is a compound of si (see) which means 'to rub' or 'to mill', and lom which translates as 'wind'. Rather than for milling Thai windmills are more commonly used for pumping water into fields (fig.), especially salt fields called nah kleua (fig.). In Bangkok's Bang Rak (บางรัก) district, an area with several foreign embassies, as well as the head offices of many large corporations, an important street, located between Sathorn and Surawong Road, is called Silom Road (map). As a reference to its name a metal statue of a full-scale windmill is put up in the street. See also bai kang han. 回

Silpa Bhirasri (ศิลป์ พีระศรี)
Professor of Italian origin, born in Santa Giovani, Florence on 15 September 1892, with the western name of Corrado Feroci (fig.). After his education at the Academy of Fine Arts in Florence he was appointed its professor in 1914. In 1923 he came to Thailand on an invitation from the Thai government and was in 1924 appointed sculptor of the Royal Institute for Fine Arts. In 1933, he founded the School of Fine Arts and became its administrator and teacher in art, art history and several art disciplines. Following a visit by Prime Minister Field Marshal Phibun Songkram (fig.), the school's status was in 1943 raised to that of a university. Corrado Feroci was entrusted with the task to establish the Silpakorn University (fig.) and was appointed professor and dean of the Faculty of Painting and Sculpture (fig.). In 1944, during WW II, professor Feroci changed his name to Silpa Bhirasri and became a Thai citizen. He died of cancer in Bangkok in 1962. His contribution and devotion to Thai art give him a unique status. In 1992, he was commemorated with a Thai postage stamp (fig.), issued to celebrate his 100th birthday. Also Silpa Phirasih. 回

silpakahntat phummai pen roop tahngtahng (ศิลปะการตัดพุ่มไม้เป็นรูปต่างๆ)
Thai description for topiary. 回
University in Bangkok founded in 1943 previously the School of Fine Arts founded by the Italian sculptor Corrado Feroci (fig.) who was also the dean of the Faculty of Painting and Sculpture (fig.). The university also has an Art and Cultural Centre (fig.) in Nakhon Pathom, which is known as the Sanam Chan Palace (fig.) Campus (fig.). Also spelled Silpakon University and in Thai known as Mahawithayahlay Silpakon. 回

Silpa Phirasih (ศิลป์ พีระศรี)
Another transcription for Silpa Bhirasri. 回
Annual tribute that vassal states in the past were required to pay to the ruling kings, as an indication of their loyalty. See also ton mai ngeun ton mai thong. 回
See Inthaphlam Bai Ngun. 回
Common name for a colourful, 16.5 to 18 centimeter tall bird in the Timaliidae family, with the scientific name Leiothrix argentauris, and found in many parts of South and Southeast Asia, from the Eastern Himalayas to Western China, ranging South, down to Malaysia and Sumatra, through Indochina. They also reside in northern parts of the Indian subcontinent, Southwest China and Southeast Tibet. There are some subspecies, with males of the form Leiothrix argentauris galbana having a black head, with a yellow patch on the forehead, and silvery ear-coverts. The mantle and back are greyish-olive, the lower belly whitish, and the rump and vent are reddish-orange. The bill is yellow, the throat and breast are deep yellow, and there is a reddish patch in the middle of the wings, which are otherwise greyish near the shoulders and yellow near the tips. The female is similar, but the yellow on the breast is paler and doesn't extend as far down. The reddish wing-patches are also lighter, whilst the neck is somewhat darker. Females also have light yellow under-tail coverts. Other subspecies are similar, with only minor differences, e.g. Leiothrix argentauris ricketti has a darker, almost orange throat, and Leiothrix argentauris cunhaci has a larger patch on the forehead. Silver-eared Mesias feed on insects and some plant material, whereas vegetables and certain fruits are eaten when available, such as berries, which they search for under bushes. In captivity, they become uneasy when they are alone, but they are easily made tame in an aviary environment. This bird species is related to the Red-billed Leiothrix (fig.). In Thai, it is named nok karong thong kaem khao. 回

Common name for a species of Leaf Monkey native to Southeast Asia, and with the scientific names Presbytis cristata and Trachypithecus cristatus. In Thailand it is found on the southern peninsula. It is identified by its dark-skinned face and overall dark grey fur, which has pale tips, giving it a silvery appearance. Like with some other Langurs, infants are of a bright orange colour. They usually live in groups of up to 10 individuals, especially in swampy areas, and riverine or mangrove forests. Its diet consists mainly of young leaf shoots and forest fruits. Also known as Silvery Lutung and Silvery Langur, and in Thai called kaang thao or kaang ngok, meaning 'Grey Langur'. 回

Name for a pheasant with the scientific name Lophura nycthemera and which occurs in mainland Southeast Asia, including China, Myanmar, Cambodia, Laos and Thailand. It inhabits mountain, bamboo, evergreen and deciduous forests, as well as grasslands. It feeds on fruits, seeds, young plant shoots, insects, worms and small reptiles. It is polygamous, living in social groups that typically consist of a male and two to five females. This bird is often bred in captivity and well-known in ancient Chinese poetry and art. The males are very territorial, especially during the breeding season, when they can be aggressive towards their keepers. Males of the nominate race have silvery-white upperparts and blackish-blue underparts, whereas the upperparts of the subspecies Lophura nycthemera lineata is darker, with denser markings, has pinkish-brown or dark grey legs, and its tail is shorter. Females of the nominate race (fig.) are overall rather dark brown, with black and white scaled underparts, whereas those of the subspecies Lophura nycthemera lineata (fig.) have light scaling above and a mostly dull chestnut breast and belly. Females will lay six to fifteen eggs. In Thai it is called kai fah lang khaw and kai fah lang ngun, literally 'white-backed fowl' and 'silver-backed fowl' respectively, and in China it is often referred to as 'white phoenix'. See also kai fah. 回

Common name of a critically endangered species of gibbon, with the scientific designation Hylobates moloch. READ ON. 回
Laotian. The most important sanctuary and ordination hall of a Buddhist temple in Laos, similar to the bot in Thailand. 回
Sanskrit. 'Lion's jaw'. Grandfather of Siddhartha who possessed the bow that the prince used in a contest to proof his skills in order to allow him to marry Yasodhara, a weapon that others could hardly lift. He had five sons, namely Suddhodana, Dhautodana, Shakradana, Sulkodana and Amritodan. 回
Sanskrit for 'lion throne', one of the seated positions or asana in iconography. 回
Hindi. An orange-red powder, used by married women in India to apply a vermillion stripe along the parting of their hair (fig.), as well as a bindi (fig.), in order to indicate their martial status (fig.). Also called sindoor, which may also be transliterated sinduhr. 回

Thai. 'Lion city'. Name of a province (map) and its capital city of the same name in Central Thailand, 142 kms North of Bangkok. The area held an important position in early Thai history, from the Dvaravati period down to the Ayutthaya Period, at the end of which it became known for the historical heroes of Fort Bang Rajan (fig.), who in 1767 offered a five month resistance with just a handful of heroic warriors against a superior force of Burmese troops, before being defeated. Since then, the city's name has become a reminder of those heroes, who fought with the courage of a lion. In 1895, the present province was created by King Rama V, who unified the areas of Phromburi, Inburi and Singburi. The province today has six amphur. See also Singburi data file. 回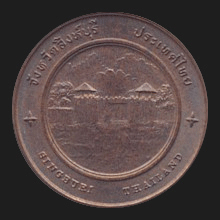 Thai-Pali name of a mythological creature from Himaphan forest, very similar to a singha or singh, but with clawed feet and a purplish complexion. Sometimes transcribed Sinkh. 回
Thai pronunciation for 'singha'. 回
Pali and Hindi pronunciation for singh, derived from the Sanskrit word simha. and meaning 'lion'. In Pali and Hindi called singha and in Burma cinthe. In Buddhism it is considered the guardian of Buddhist teachings usually portrayed in a mythological form. Especially in northern Thailand they are often found in pairs guarding temple entrances. In general the term is used when referring to lions in a metaphorical sense, e.g. mythological lions and when a sign of the zodiac. Mythological lions are also known as kraison, and the common word used for actual lions is singtoh. There are several types, many with features of other animals, such as Toh, which has two antlers (fig.) and Sang Praeng, with clawed feet and a feathery tail (fig.), to name just two. Most of these composite creatures dwell in Himaphan forest. It appears on a Thai postage stamp issued in 1998 (fig.). See more POSTAGE STAMPS. 回
Thai term for a window behind which a Thai king in the past used to receive foreign visitors. 回
Singha Nat Racha (สิงหนาทราชา)
Thai. Name of a Shan leader (fig.) with the Thai title of Phraya (according to some sources Phaya), who was appointed as the first ruler of Mae Hong Son. In 1874 he commissioned the construction of a chedi at Wat Phrathat Doi Kong Moo (fig.) and his wife in 1875 commissioned the casting of a twelve meter long reclining Buddha image which today rests in Wat Phra Non (fig.). Today, his statue stands at an intersection in the city on the road towards both aforementioned temples. 回

Thai-Pali name of a mythological creature from Himaphan forest, that has the body of a singha, but scaled and of a dark purple colour. In addition, its lower legs and feet are reminiscent to those of an elephant. Sometimes transliterated Singha Khak Kar and also known as Siha Khak Khah. 回
Thai-Pali name of a mythological creature from Himaphan forest. It has the lower body of a lion (singha) and the upper body of a monkey (phanon), though its feet are also like those of a monkey. In art, it is often depicted standing upright whilst holding a staff with both hands, in front of its body. See also Apsonsi and Phanon Mareuk. 回
Name for a kind of bowl-shaped bell or gong used as a stimulation utility for meditation, trance induction and prayer, especially in Mahayana Buddhism and feng shui. It originates from the Himalayan region but is widely used throughout the South Asia and the Far East. In Chinese Buddhism, the monks strike the singing bowl when chanting prayers (fig.), but usually it is played by rubbing a wooden mallet around the rim of the bowl, causing an overtone, which is referred to as 'singing', hence its name. They may also have mantras, such as Aum or the six syllable Aum mani padma hum, inscribed on them (fig.). It is traditionally made from five metals called panchaloga in Sanskrit, in general a bronze mixture of copper, tin, zinc and iron, and another metal, although nowadays also other materials are often used. Singing bowls are usually kept on hassock-like cushions (fig.). Also called Tibetan singing bowls, Himalayan singing bowls, rin gongs or suzu gongs. See also muyu. 回

Thai for 'lion'. This word is commonly -though not always- used when referring to a real animal. When referring to a mythological lion generally the word singha or kraison is used. See also simha, singh, singha and Toh. 回
Thai. 'Chinese lion'. Name used in Thailand to refer to Rui Shi. 回
Thai. Rajasap or royal language for 'dying'. Occurs regularly on pedestals in Thailand together with the term phrasoot. Also sawankot. 回

1. Thai. 'End of the Ocean'. A son of Phra Aphaimanih and the ogress Nang Phi Seua Samut (fig.), in the story Phra Aphaimanih, who −with the help of a mermaid− moved the rock in front of the cave in which Phra Aphaimanih was held captive by the ogress, thus helping him escape to Koh Kaew Pitsadahn (เกาะแก้วพิสดาร), i.e. 'Queer Crystal Island', a fictional island at the tip of Sumatra. Later, Sin Samut was adopted by Nang Suwanna Malih (fig.). The HTMS Sin Samut, a submarine of the type Madchanu once used by the Royal Thai Navy (fig.), was named after this character. 回

2. Thai. 'End of the Ocean'. Name of a submarine, usually referred to as the HTMS Sin Samut, i.e. a U-boat of the type Madchanu that was once used by the Royal Thai Navy (fig.), and which is named after a character from the story Phra Aphaimanih. 回
Sipsongpannah (ສິບສວງພັນນາ, สิบสองพันนา)
Laotian-Thai. 'Twelve hundred paddies'. A region in the South Chinese province of Yunnan, in the North bordering Nan Chao, and in the 12th century AD under the rule of the independent Tai and later, in the 17th century, kingdoms of the Thai Lu. In Chinese known by the name of Xishuangbanna. Compare with Lan Na. MORE ON THIS. 回
Sirikit Kitthiyagon (สิริกิติ์ กิติยากร)
Born the daughter of a Thai prince and his consort, on Friday 12 August 1932. Queen of Thailand by marriage to king Bhumipon Adunyadet, on 28 April 1950. She breathes new life into Thai traditional handicrafts and encourages the continuation of this cultural heritage on a national level. For her dedication and legacy to preserve the arts and crafts of Thailand, she was given the title Preeminent Protector of Arts and Crafts (fig.) and in this role she is depicted on a set of six postage stamps issued in 2013 (fig.). She is also chair of several organizations, including the national Red Cross. She gave birth to four children, three daughters and one son, the present Crown Prince Maha Vajiralongkorn. The name Sirikit means 'beauty and honor'. Her personal Royal Flag (fig.), known as Thong Sirikit Kitthiyagon (fig.), consists of a golden crown over her initials, the letters S (ส) and K (ก) in blue and white, on a light blue field, the colour of her birthday (see sih prajam wan), though there is also another version of this flag, which has the logo and text in white print, and in addition to the crown and the initials, it has a ribbon with the text Song Phra Charoen (ทรงพระเจริญ), which is rajasap, meaning 'to prosper' or 'to be prosperous', but is usually translated as 'Long Live the Queen' (fig.). Although the Queen has often appeared on a number of Thai postage stamps, to commemorate her 80th birthday anniversary a unique set of stamps was issued with representations of the Queen during different stages of her life, from childhood to the present adult Queen, with intervals of ten years (fig.). 回

Another -often used- transliteration for the name of princess Sirinthon. 回
Second daughter and third child to King Bhumipon and Queen Sirikit. Born at Phra Tihnang Amphon Sathaan in Dusit Palace, on 2 April 1955. Her full name and royal title are Somdet Phra Chao Look Teh Chao Fah Sirinthon Thep Rattana Rachasudah Kittiwattanah Dunlasohpahk (สมเด็จพระเจ้าลูกเธอเจ้าฟ้าสิรินธรเทพรัตนราชสุดากิติวัฒนาดุลโสภาคย์), whilst the King later changed her ceremonial title into Somdet Phrathep Rattana Rachasudah Sayaam Boromarachakumarih (สมเด็จพระเทพรัตนราชสุดาฯ สยามบรมราชกุมารี). Having been born on a Saturday, the princess' personal flag (fig.) consists of a purple background, with her initials, i.e. a ส (s) in blue and a ธ (t) in yellow (or sometimes in white), underneath a golden (orange) crown (fig.). Whereas the crown, which is smaller than those of the king or queen, refers to her royal status as a princess, the blue and yellow of her initials are the colours of the days on which the queen and king respectively were born, i.e. blue for Friday and yellow for Monday (see sih prajam wan), which could indicate that she is their offspring, though the colour of the ธ (t) is sometimes left white. The day of her birth, the king had been scheduled to present words to graduates of the Police Academy, but appointed prince Wiwattanachai to officiate in his place. Her first name in Roman script is also often transliterated Sirindhorn. 回

Museum on the history of the Siriraj Hospital (fig.), located in the former Thonburi Train Station (fig.), adjacent and since 2003 part of to the main hospital complex in Bangkok Noi. In Thai, it is known as Phiphithaphan Siriraat Phimuk Sathaan (พิพิธภัณฑศิริราชพิมุขสถาน), but this is officially transliterated as Siriraj Bimuksthan Museum, although it should be pronounced Siriraht Phimukhsthan Museum, which literally translates as the Siriraj Rear (Position) Musem, due to the fact that it was once the place of the Rear Palace, known in Thai as Krom Phra Rachawang Bowon Sathaan Phimuk, or simply Wang Lang, with its last ever occupant being Anurak Thewet (fig.). It is just one of several museums belonging to the Siriraj Hospital Museum (fig.). 回

Name of the first royal hospital in the country, originally called Wang Lang Hospital, after the former palace and residence of the last Krom Phra Rachawang Bowon Sathaan Phimuk, that once stood on its location. It was renamed in memory to Prince Siriraj Kakuthaphan (fig.), who died of dysentery at the short-lived age of one year and seven months. He was the fifth son to Queen Sri Patcharintra and the 59 child of King Rama V, who had it built to provide medical treatment to the public when the era of modern medicine made its way to Thailand. When current members of the royal family need medical attention they customarily come here. The hospital was also Thailand's first medical school, built to help medical students with their studies and research projects and to educate medical students the hospital had a hall with didactic materials, which today has been made into a museum, known by the name Siriraj Hospital Museum (fig.). 回

General name for a group of educational museums located within the compound of the Siriraj Hospital (fig.) in Bangkok Noi, which initially doubled as Thailand's first medical school. Originally, it was a didactic classroom, founded to help medical students with their studies and research projects, but later became a museum with permanent exhibits which expanded into its present form, i.e. spread out over three buildings and several halls, that are separately known as: the Siriraj Bimuksthan Museum (fig.), located in the former Thonburi Train Station (fig.); the Siriraj Medical Museum (fig.), which consists of the Ellis Pathological Museum, the Songkran Niyomsane Forensic Museum, the Parasitology Museum (fig.), and the Ouay Ketusingh Museum on the History of Thai Medicine, all accommodated on the second floor of the Adulyadejvikrom Building, which is named after Mahidol Adulyadej (fig.); the Sood Sangvichien Prehistoric Museum and Laboratory, housed besides the morgue in the Anatomy Building; and the Congdon Anatomical Museum (fig.), named after Dr. Edgar Congdon, who founded the museum in 1927, and which is also in the Anatomy Building, conveniently located above the Dissecting Room. Parts of the museum have some rather morbid objects on display, such as the cross-section of human bodies, heads and body parts, and babies affected by genetic anomalies and disorders, frozen in time inside jars filled with formaldehyde. There are also exhibits of the bodies of accident victims, and even the dried body of an infamous serial killer, who in the fifties was known to eat the livers of children. In Thai, the mueum is called Phiphithaphan Satahn Rohng Phayahbahn Siriraht (พิพิธภัณฑสถานโรงพยาบาลศิริราช). In English, the museum is also nicknamed the Museum of Death. See also Human Body Museum. 回

Siriraj Kakuthaphan (ศิริราชกกุธภัณฑ์)
Thai. Name of the 59 child of King Rama V (fig.) and the fifth son to Queen Sri Patcharintra (ศรีพัชรินทรา). He was born on 27 November 1885 and died of dysentery at the short-lived age of one year, six months and 4 days, on 31 May 1887. Siriraj Hospital (fig.) was named after him. Sometimes transcribed Sirirat Kakudhabhandu or Siriraj Kakuttapan. See also kakuthaphan. 回

Museum located on the second floor of the Adulyadejvikrom Building of the Siriraj Hospital (fig.) in Bangkok Noi, and part of the larger Siriraj Hospital Museum (fig.). This one museum consists itself again of four halls or museums, which are separately known as the Pathological Museum, which displays a genuine healthy human heart and hearts with diseases, several types of cancer, fetal development and congenital anomalies; the Forensic Museum, which displays objects such as human skeletons, skulls and organs collected from homicides and suicides, as well as from accidental and natural death cases, including even the preserved corpse of a notorious serial killer; the Parasitology Museum, which features all kinds of parasites, their origin and how they affect the human organs (fig.); and the Museum on the History of Thai Medicine, which includes also Thai traditional medicine. In Thai, the Siriraj Medical Museum is known as Phiphithaphan Kahn Phaet Siriraht (พิพิธภัณฑ์การแพทย์ศิริราช). 回

Chinese. 'Four Shi' or 'Four Sirs'. Name of a group of semi-mythological rulers and culture heroes from the period preceding the Xia Dynasty in ancient China, and that are said to have taken part in the creation of the world. They are four in number and known as You Chao-shi, Fu Xi-shi, Sui Ren-shi, and Shen Nong-shi, each taking the annex shi to their names, thus referring to their membership of this clan, although Shi can also be used as a masculine honorific like 'Mister' or 'Sir'. 回
Khmer. King of Cambodia, who ruled from 1904 to 1927. He was born on 7 September 1840 as the son of King Ang Duong, and a half-brother of Prince Si Votha and Prince Norodom. At his birth, Cambodia was under joint Siamese and Vietnamese rule, and Sisowath was educated in the Siamese capital Bangkok. 回

The wife of Rama and heroin in the epic Ramayana. She is the embodiment of the female virtues. In the Thai version of the Ramayana, the Ramakien, she is called Sida (fig.). 回

Hindi. A long-necked bowl lute, i.e. a plucked stringed instrument used in India (fig.), though according to some sources probably originating from Persia. It consists of a long hollow neck with 20 to 25 strings, of which only 6 or 7 are playable strings, the others being auxiliary strings, that give the instrument its sympathetic resonant sound, which is amplified by a gourd resonating chamber. Some sitars have a secondary gourd resonator near the top of the hollow neck. Originally, sitars were made of quality materials, such as teakwood for the neck, and deer horn, ebony or camel bone for the bridges. In Hindu mythology, it is the preferred instrument of Sarasvati, the goddess of art and learning (fig.). 回

Chinese. 'Four Heavenly Kings'. Term for four guardian gods in Mahayana Buddhism, one for each of the cardinal directions of the world, similar to lokapala. They are known by the names Duo Wen Tian (fig.), Zeng Zhang Tian (fig.), Chi Guo Tian (fig.), and Guang Mu Tian (fig.). They correspondent with the Indian lokapala of the North, South, East, and West, i.e. Kubera or Vaisravana, Yama or Virudhaka, Indra or Dhritarashtra, and Varuna or Virupaksa, respectively. They are often placed at the entrance of Chinese temples, usually in pairs, two on each side. They are also known as the Diamond Kings of Heaven, and might have different attributes. Compare with Chien Li Yen and Shun Feng Er. 回
Thai name for Siddhartha. Also pronounced Sittharot and Sittharta. 回
Thai name for Siddhartha. Also pronounced Sitthaat and Sittharta. 回
One of the four positions of Buddha images in iconography. See also iryapatha. 回

Thai name for Shiva. Also transcribed Siwa. 回
Thai name for Shiva. Also transcribed Siva. 回
Term in Mahayana Buddhism for the perfection of six virtues as a way to purify karma, i.e. generosity, proper, conduct, endurance, diligence, concentration and wisdom. The Sanskrit word paramita (पारमिता, in Thai: ปารมิตา) means 'traversed' or 'perfection', as in Prajnaparamita. In Theravada Buddhism there are ten vitues, known by the Pali term Dasa Paramiyo. 回
Thai. 'Quarter'. An obsolete Thai monetary unit with a value of four sihk, or one fourth of a solot. It is still found on old coins and stamps. Also transcribed seek or siek. 回

Sanskrit. The god of war and one of the sons of Shiva and his consort. His mount is the mayura or peacock. He is is associated with Phra Angkahn (fig.) and Wei Tuo (fig.), and also known as Kumara (fig.), Karttikeya, Guha, Subramanya and Subramaniam. 回

General name for a lizard-like reptile in the family Scincidae, of which its English name is derived. See also jing lehn. 回
Name for a group of generally small butterflies, that belong to the family Hesperiidae and the subfamily Hesperiinae. Members of this family have thick heads, large eyes, and relatively small wings in proportion to their bodies. Hence, they move their wings at a high speed when flying, making their flight extreme fast and darting, a feature also expressed in their Thai generic name, i.e. phi seua bin raew wong yoy (ผีเสื้อบินเร็ววงศ์ย่อย), which could be translated as 'minor class of fast-flying butterflies'. Skippers typically have crochet hook-like antennae. Worldwide there are over 3,500 species. 回

Common name for a species of damselfly in the family Calopterygidae. These damselflies have a metallic green-bronze body with a long slender abdomen, and large, dark green-bronze to brownish coloured wings, which are broad all the way to the body. They are usually found near gently moving water. It has the scientific name Vestalis gracilis, and in Thai this species is called malaeng poh khem nahm tok pihk riyaw (แมลงปอเข็มน้ำตกปีกเรียว), suggesting that it dwells in the vicinity of waterfalls. 回

Name of a small species of tree squirrel that occurs in primary and tall secondary forests, from Thailand to Malaysia, including Borneo and as far as Singapore and Sumatra. This rodent belongs to the family of Sciuridae and has the scientific name Sundasciurus tenuis. Its upperparts are brown whilst its underside is light grey to pale (fig.). It also has a pale area around each eye. The ears are small and usually orange-brown in colour. Its tail is long and slender, and it feeds on soft tree bark (fig.), fruits and small insects. In Thai it is called kra-rohk hang mah lek (กระรอกหางม้าเล็ก), i.e. 'small horsetail squirrel'. 回

Generic name for a rather cute-looking species of nocturnal mammal belonging to the genus Nycticebus, of which five recognized subspecies exist, i.e. the Sunda Slow Loris (Nycticebus coucang), Bengal or Northern Slow Loris (Nycticebus bengalensis - fig.), Pygmy or Lesser Slow Loris (Nycticebus pygmaeus), Javan Slow Loris (Nycticebus javanicus), and Bornean Slow Loris (Nycticebus menagensis). Slow Lorises are distributed throughout South and Southeast Asia, ranging from northeastern India to The Philippines and from Yunnan to Java. They have a rounded head, with small upright ears, large eyes and a narrow snout. Their trunks are long, whilst the arms and legs are nearly equal in length, with adaptations on the hands and feet, that enable them to grasp onto tree branches for extended periods. Their fur is greyish-buff to brown, with a variety of darker markings, depending on the species. Used for both defense from predators and to protect their fur, Slow Lorises are able to produce a toxin mixed with saliva, by licking a gland on their arms. Bites of these omnivorous mammals can hence be toxic. They are arboreal and make little to no noise. Slow Lorises move about very slowly, hence their common designation. 回

A species of civet with the binomial name Viverricula indica. It is found in South and mainland Southeast Asia. The Small Indian Civet is a small mammal with a slim body, short legs and five toes. It has a rather long head, with rounded ears and a pointed snout. It weighs roughly about 5 kilograms and may grow to a length of about 63 centimeters. Its fur is sandy-gray with blackish or brown, horizontal lines or patches, that run parallel along the back, from the shoulder to the tail, as well as blackish or dark brown dots, on the sides and belly of the animal. The tail, which has a length of up to 43 centimeters, has seven dark brown or black rings. The male civet has the musk-gland between the anus and the testicles, which secretion has medicinal value and is used to treat inflammation and to reduce pain. It is also known as Lesser Indian Civet Cat or Musk Cat, and in Thai it is called chamot chet (ชะมดเช็ด) or chamot chiang (ชะมดเชียง). 回

Another designation for the Pariah Kite. 回
Common name for a butterfly, with the scientific designation Colotis amata. It is a small butterfly in the family Pieridae, found in some parts of Asia. The male's upperside has a salmon-pink ground-colour, with black edges and markings (fig.), whereas the underside is yellowish-green, with a dirty wash and some of the black markings of the upperside showing through. In the female, the ground-colour of the upperside is paler than in the male and the markings are duller, whilst the underside also has a much paler ground-colour and is more tawny-yellow, with a curved dark band and some spots (fig.). However, there is purportedly also another form of the female, in which the ground-colour is pale primrose-yellow to pure white. 回

Common name for a butterfly, with the scientific designation Athyma zeroca and that belongs to the family Nymphalidae. Above the wings of the male are brownish-black, with a single white bar that stretches across the wings but ends at the lower apex of the forewings, which each have two larger and one smaller, obliquely-placed white patches. In addition the wing edges have a double row of pale brownish patches, that –especially in the outer row– seems to form a continuous line. On the underside, the wings have a black and brown ground-colour, with a pattern of white and pale lilac streaks and spots. This butterfly is found in tropical and subtropical Asia, including in Thailand, where it is called phi seua jah lek (ผีเสื้อจ่าเล็ก), i.e. 'small sergeant butterfly'. 回

See Three-striped Palm Civet. 回
Common name for a butterfly, with the scientific designation Neptis miah, and with a wingspan of 4.3 to 5.3 centimeters. Above, the wings are black with yellowish-orange spots, that line up to form three vertical bands, of which the two upper ones are flanked by a slant bar. Its preferred habitats are jungle streams and rivers. This butterfly is very similar to the Cambodian Lascar (fig.). 回

A designation for the Chinese god Budai. 回
Both in Thailand and Indo-Malay territory there are about a hundred different species of snake, including the net python, with a length of up to ten meters one of the largest kinds in the world. Also native is the very venomous cobra (fig.) and the groove headed adder together with a number of other less venomous species (fig.). Some species live on land, others in trees (fig.) and yet others in either fresh or sea water. Basically, snake venom is modified saliva and there are four distinct types of venom that act on the body differently, i.e. hemotoxic venom, which acts on the heart and cardiovascular system; neurotoxic venom, which acts on the nervous system and brain; cytotoxic venom, which has a localized action at the site of the bite; proteolytic venom, which dismantles the molecular structure of the area surrounding and including the bite. Snakes have a forked tongue which they use to scent evaporated molecules in the air. To interpret these scent particles they posses a sensitive organ on the roof of their mouth, called the vomeronasal organ or Jacobson's organ, that allows them to determine which direction a scent is coming from and which can pick up scents for over a kilometer away. By sticking out its tongue, scent particles will stick to it and when retracting it, the tongue will brush against the cavity with the vomeronasal organ (fig.). By regularly sticking its tongue in and out, the scent particles are taken in and after analyses by the brain will recall a certain memory, whether of prey or of an enemy, enabling the animal to react more alert. The most venomous snakes however live in the water, both in fresh and seawater alike. In mythology the snake plays an important role and occurs often in both Buddhist and Hindu stories, e.g. as Ananta, the serpent on which Vishnu rests during his cosmic sleep (fig.), and as naga, the guardian of the Buddha. In the sat prajam wan system the snake is associated with Saturday, hence the Buddha's naagprok position (fig.) assigned to that day. In the Chinese zodiac the snake is the sixth animal, representing the sixth year of the animal cycle (fig.), and those born in the Year of the Snake are said to be keen and cunning, quite intelligent and wise, and an ancient Chinese wisdom says that a snake in the house is a good omen, as it means that that household will never starve. In Chinese mythology, a snake combined with a tortoise is known as guishe and represents longevity (fig.). Worldwide there are roughly 3,100 known snake species, the smallest one probably being the leptotyphlops carlae from the Caribbean, with a length of less than 10 centimeters and the largest disputably being a Python (fig.), more specifically a Reticulated Python, with the longest ever measured at around 10 meters, closely competing with the eunectes murinus or green anaconda from the Amazon which holds the world's record for the biggest girth, exceeding even that of the Reticulated Python. With a body length of between 200 and 540 centimeters, the King Cobra is the world's longest venomous snake (fig.). There have been reports of far larger anacondas and pythons, but they have not been proven. In some parts of Thailand certain snakes, such as cobras and pythons, are caught and killed for consumption or for their skins (fig.). Snakes are represented on many a Thai postage stamp, including the Songkraan Day Postage Stamp issued in 2001 (fig.) and a set of stamps on Venomous Snakes issued 1981 (fig.). See also Tortoise and Snake, and Snake Farm. In Thai ngu. 回
Farm where venom is milked from snakes to produce antidotes for emergencies in case of venomous snake bites. The venom is injected into horses who produce the serum (fig.). The horses are unaffected by the poison. In Bangkok, the snake farm is linked with the Thai Red Cross Society (fig.) and the Queen Saovabha Memorial Institute (fig.), and is open to the public (fig.). To save time in emergency situations, Thai hospitals and clinics around the country have a photographic name list of all indigenous, venomous snakes, including pictures of certain bite marks and their related health hazards (fig.). See also POSTAGE STAMP. 回

Thai. General name for traditional fiddle-like, bowed string instruments. The name probably goes back to a related instrument, in Thai comparably known as so (fig.), a word that itself is related to tro, a Khmer word for a similar two-stringed musical instrument in Cambodia. There are several types of so, including the three-stringed so sahm saai, the two-stringed so uh and the two-stringed so duang. 回

Thai. Another name for saloh (fig.). The writing using the letters tho thahaan (ท) and roh reua (ร) which combined are pronounced as a s-sound in Thai, is directly related to the Khmer word and musical instrument, named tro. 回

Thai. Term used for one who has just attained Enlightenment, a saint. The term also means sainthood and to attain sainthood. Also sodah. 回
Thai. Name of a two-stringed so with a slim wooden sound box which is made of a bamboo joint and with a bow attached to the strings. The front of the body is covered with a piece of snake skin, whilst it is open in the back, to allow amplification of the sound resonance. Modern versions are often made of wood (fig.) and might be adorned with ivory. See also so uh. 回

Name of a small ethnic group that lives in Isaan, especially in Mukdahan, where they have been since the foundation of the city. In 1816, during the reign of Rama II, Soh people from several places from the Lao side of the Mekhong River, moved to Isaan and settled in places, such as Nong Kai, Sakon Nakhon, Kalasin, Ubon Ratchathani and Nakhon Phanom. Most settlers travelled on foot over paths that are still in use today, in particular by the Soh themselves, who use these ancient trails to visit relatives. They have their own language, dress and traditions, such as Soh Thang Pan. In Thai also called Chao Soh and sometimes transliterated So. 回
Thai. Former wife of Crown Prince Maha Vajiralongkorn (fig.) and Princess Mother of King Bhumiphon's first grandchild, i.e. Princess Phatcharakitiyapha. She was born on Saturday 13 July 1957 as Soamsawali Kitthiyagon (โสมสวลี กิติยากร), a niece of Queen Sirikit Kitthiyagon, with the title of momluang. In 1991, after her divorce with the Crown Prince, she was given the title Phra Woraraja Thinatdahmaht (พระวรราชาทินัดดามาตุ), i.e. 'Glorious Royal Niece and Mother', but in translation usually referred to as 'The Princess Mother of the King's First Grandchild'. Her personal flag consists of a lilac field (i.e. a pale form of purple, the colour of the day on which she was born according to the sih prajam wan system), with her initials, i.e. a strongly stylized pink and white S (ส) bordered by purple and underneath a golden yan sign (fig.). Often transcribed Soamsavali and Soamsawali. 回
Soh Thang Pan (โส้ทั้งปั้น, โซ่ทั้งปั้น)
Name of a traditional dance performed in Nakhon Phanom, by the men and women of the Soh, an ethnic group that lives in Isaan. It is performed during funeral ceremonies, in order to send the soul of the deceased to heaven. Also called Praphenih Soh Thang Pan. 回
Thai. 'Elbow' or 'cubit'. An ancient measure of length, approximating to the length of a forearm. Also transcribed sawk or sauk. 回
Japanese. 'Immediate buddha body'. Name of a today outlawed process in which Buddhist priests in Japan tried to mummify themselves, through a regimen of rigorous diets, that included eating bark and roots, and drinking poisonous tea made from the toxic sap of the Urushi tree, normally used to produce lacquer, in order to expedite their path to Enlightenment, believing that they would instantly attain buddhahood if they succeeded. It is assumed that the practice of self-mummification was brought to Japan by the Buddhist monk Kukai, as part of secret Tantric practices he learned in China. 回
Any fly in the family Stratiomyidae, a reasonably large family of true flies in the order Diptera, found worldwide and containing about 400 genera and over 2,800 described species, but which is particularly diverse in the tropics. The name Stratiomyidae is a composite that derives from the Greek words startiotehs (στρατιώτης) and muia (μυια), meaning 'soldier' and 'fly', respectively. Though Soldier Flies are diverse in size and shape, they commonly are either partly or wholly metallic green, with some members imitating features of wasps. They are often rather inactive and typically rest with their wings placed one above the other over the abdomen. These flies do not bite nor sting and their name is said to derive from the bright, almost militaristic colours. 回

Thai. An obsolete Thai monetary unit equal to one 1.128th of a baht. It is still found on ancient coins and stamps (fig.). Also lot. 回

Thai for 'orange'. It refers to both the colour and the fruit. When referring to the fruit it may be specified with the prefix 'look' and when referring to the colour the prefix 'see' may be added, and an orange tree is called 'ton som'. Oranges originated either in Southeast Asia or southern China and in a number of languages it is known as the Chinese apple, e.g. the Dutch 'sinaasappel'. Its Latin name (Citrus sinensis) also gives away its origin and the name of the smaller 'mandarin' (Citrus reticulata - fig.) equally refers to a Chinese origin, and is in Thai known as som jihn (ส้มจีน) or som khiaw wahn (ส้มเขียวหวาน), meaning 'Chinese orange' and 'green sweet orange', respectively. Its English name, however, derives from the Sanskrit naranga. Thailand has a suitable climate to grow oranges but concentrates more often than not on the smaller mandarins, mainly for own use. Before being sold on the market they are sorted by size (fig.). A special kind of oranges, known as som si thong or 'golden orange', is grown in the northern province of Nan. Though of the same species as oranges of the Central Plain, climatic differences make this specific golden-skinned type more aromatic. A green and tasty, sweet kind of orange, known as som Shogun (ส้มโชกุน), is the leading economic crop of the southernmost province of Yala. 回

Sanskrit. Life nectar identified with the elixir of immortality or amrita. 回
Sanskrit. Another name for the moon god Chandra. 回
Thai. 'Majesty', 'serenity', or 'holiness'. Title usually utilized as a prefix in titles of kings, as well as with names of royalty or monks of high rank, as in Somdet Phra Phutthachan. From the Ayutthaya Period (1350-1767) onward the title for a monarch is Somdet (Phra), in the Thonburi period (1767-1782) this has changed into Somdet Phra Chao and in the Rattanakosin or Bangkok period (after 1782), it is Phrabaht Somdet (Phra), followed by the name and when referring to the king also by suffix Chao Yuh Hua (เจ้าอยู่หัว), which means 'the Lord who is (at) the head'. 回

Somdet Phra Boromma Raja Channanie (สมเด็จพระบรมราชชนนี)
Thai. Title for the mother of the king. See also Somdet, Phra, Borom, Raja and Channanie. 回
Somdet Phra Bowon Raja Chao Maha Surasinghanat (สมเด็จพระบวรราชเจ้ามหาสุรสิงหนาท)
Thai. The official and full title of Surasinghanat (Boonma), the first uparacha or viceroy of the Rattanakosin period and the younger brother of king Rama I. 回
Somdet Phra Pan Pie Luang (สมเด็จพระพันปีหลวง)
Thai. 'Holy Majesty worshipped for a thousand years'. Mother of the king, and widow of nobility. See also Somdet, Phra, Luang and panwatsa. 回
Thai. A snack of sour shredded fish mixed with fermented rice and wrapped in banana leaves. 回
Thai. Name for a fruit, made up of the words som and kaek, which translate as 'orange' and 'foreign'. It has the scientific name Garcinia cambogia and belongs to the same genus as the mangosteen, which is in Latin known as Garcinia mangostana. This yellowish to orange fruit is pumpkin-shaped and is primarily found in the southern part of Thailand. It is used as a herb to loose weight, since the fruit contains hydroxycitric acid or HCA, a derivative of citric acid that is found in a variety of tropical plants, and high quantities of its extracts are purportedly effective in suppressing fat accumulation, though are also potentially hepatotoxic and could cause liver damage. In English it is commonly known as Gambooge, Brindleberry, Brindall berry and Malabar tamarind, and in Sri Lanka it is called Goraka. Products made from the som kaek fruit are a well-known souvenir from Narathiwat province. 回
Thai for a large lemon-like fruit of the genus Citrus medica l. var. medica, somewhat resembling a citron or yellow lemon. 回

Thai. 'Hand pomelo'. Name for the inedible fingered citron, a fragrant lemon-like citrus fruit with segmented, finger-like sections (fig.), which gave it the nickname Buddha's hand. It is used predominantly in Chinese culture as a perfume and air freshener, as well as a religious offering (fig.) in Buddhist temples (fig.). Its trinomial name is Citrus medica var. sarcodactylus. In Chinese it is called fu shou, with the first word sounding like fu, which means 'blessing', 'good luck' and 'happiness'. It is hence regarded as one of the three fruits of abundance, together with the peach and the pomegranate. 回

See phasom set.